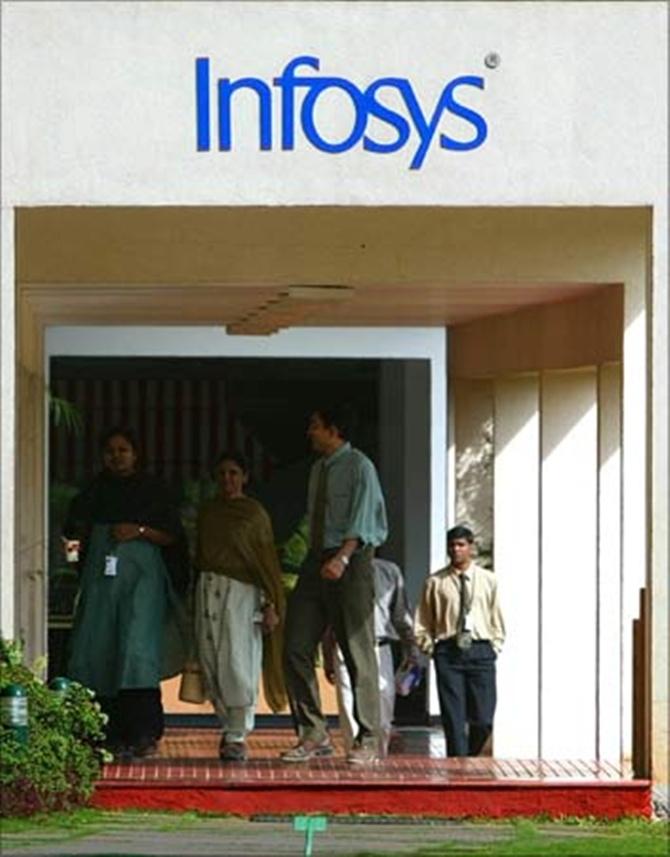 Good performances by most information technology (IT) companies in the September quarter and improved forecasts notwithstanding, with the exception of Infosys, stocks of IT biggies such as TCS, Wipro and HCL Technologies have fallen three to nine per cent since Infosys announced its earnings on October 11.
During this period, the TCS, Wipro and HCL stocks have also under-performed the BSE IT index and the Sensex. While Infosys is still close to its 52-week high of Rs 3,372, TCS, Wipro and HCL are trading nine-11 per cent below their yearly highs.
Why are these stocks down, and is the upward trend (which started in June) likely to change?
After the good set of numbers announced by Infosys, the TCS, Wipro and HCL stocks rallied, anticipating good performances by these companies. However, their stocks corrected subsequently, partly due to profit-booking, as the BSE IT index rose 40 per cent since the beginning of July (till October 15).
Also, with the rupee rising (from its low of 68/dollar), potential gains from a weak rupee were diluted — this would also have boosted profits in the seasonally weak December quarter.
"Recent strengthening of the rupee is negative for FY15 earnings of IT companies. This could have led to portfolio churns away from the IT biggies. The recent frenzy on TCS and HCL Technologies seems to have died," says Madhu Babu, IT analyst at HDFC Securities.
"Indian IT stocks recorded a new high in the run-up to the results, but underperformed the market after the results, as the second quarter just about met the heightened Street expectations," HSBC Global Research said in a note to clients.
A recovery in the US economy, along with a likely tapering of the bond-buying programme by the US Federal Reserve (leading to rupee depreciation) sometime around the first quarter of 2014 are key near-term triggers for IT stocks.

A pick-up in discretionary spending in the US and Europe, healthy deal pipelines and improved traction in the US banking and financial services sector mean the business environment for IT companies is improving.

While the crucial US visa Bill would have a bearing on IT companies' earnings before interest, tax, depreciation and amortisation margins in the medium term, the actual impact would be a function of the strategy adopted by each company to comply with these norms.