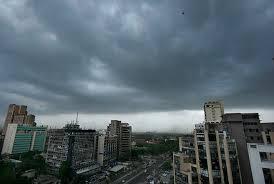 Frequent power cuts are not the only side effect of the scorching heat and delayed and deficient monsoon urban consumers are faced with.

There are chances of taps running dry and prices of fruits and vegetables spiking.

And with no respite from high inflation in sight, the possibility of interest rates coming down is low, belying hopes of reductions in the equated monthly instalments on home or vehicle loans any time soon.

Does this suggest the predicted deficiency in monsoon rain is likely to impact urban consumers more than their rural counterparts?

In the past 10 years, we have had two drought years -- 2004 and 2009 -- and monsoon rain was below normal in 2012.

This year, too, rain is likely to be below normal.

Monsoon deficiency leads to rise in prices of food articles in general and of fruits and vegetables in particular.

Average annual food inflation touched an alarming level of 15.27 in 2009-10, a drought year.

A similar trend was visible in 2012-13.

Data indicate food inflation impacts urban consumers more than their rural counterparts.

Trends in composition of monthly per capita expenditure on food items suggest that from 2004 to 2012, the period of high food inflation, the percentage consumption of pulses rose faster in rural areas than urban centres.

And the decline in percentage consumption of fruits and vegetables was sharper in urban areas than in the countryside in the same period.

"People living in villages generally have to pay less for farm produce.

It is, therefore, likely that the recent spike in food prices would have had minimal impact on villagers," observes Ajay Jakhar, chairman of the Bharat Krishak Samaj.

Rating agency ICRA's senior economist Aditi Nayar agrees.

"High food prices squeezed disposable income for urban consumers," she says.

Another casualty of a deficient monsoon is the dip in power generation, especially hydroelectricity.

This happens at a time when demand for power goes up.

In 2009-10, hydroelectricity generation dipped by a whopping 10 per cent and in 2012-13, the fall was to the tune of 6.82 per cent.

However, 2004-05 was the only drought year when power generation had seen a marginal uptick of 0.59
per cent.
But it happened on the back of serious fall in power generation for four consecutive years (2000-01 to 2003-04).
A dip in power generation leads to frequent power cuts in urban centres, which hit urban consumers hard as they are made to pay big bills for back-up power.
This is another source of squeeze on their disposable income.
Rural areas, on the other hand, are increasingly becoming drought resilient.
According to the Reserve Bank of India's annual report for 2012-13, "While agriculture output is still subject to the vagaries of the monsoon, it has become more drought resistant than in earlier decades.
"This has partly been the result of improved technology and irrigation and partly due to diversification of rural economic activities away from pure farm activity."
Another source of comfort for rural areas is the fact that less monsoon dependent rabi crops have started contributing more to the total foodgrain output than rain-fed kharif crops.
This is the reason, as Business Standard reported on June 19, why companies catering to the demands of rural consumers are not worried about poor rainfall, as they see a decoupling of rural consumption from the monsoon because of rural development schemes and better irrigation techniques.
A look at total foodgrain production in the country, too, suggests that monsoon deficiency has had marginal impact on the total output.
Incidentally, output of pulses and oilseeds are more monsoon dependent as 77 per cent of pulses and 65 per cent of oilseeds are grown in rain-fed conditions as against 45 per cent for cereals, shows the Reserve Bank of India data.
Another source of worry for urban consumers is likely to be the elevated level of interest rates for some months to come.
A recent ICRA report observes that "the expectation of below-average rainfall in conjunction with structural factors that exert stickiness on food and non-food Consumer Price Index-based inflation, suggest that achieving the RBI's target of containing CPI inflation below eight per cent by January 2015 would be challenging.
Accordingly, the most likely scenario at present appears to be an extended pause for policy rates, with monetary easing delayed until at least early-2015."