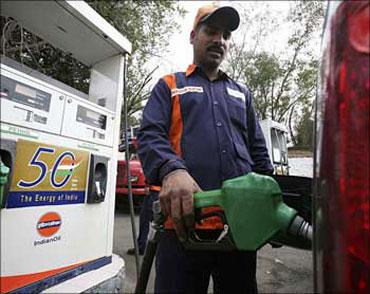 Oil Minister M Veerappa Moily has asked the finance ministry to cut duties on branded petrol and diesel that offer better mileage and help cut fuel consumption.
At present, the finance ministry levies higher excise duty on premium or branded petrol and diesel, making them costlier than normal or unbranded auto fuel.
While a litre of regular/normal or unbranded petrol costs Rs 72.45 in Delhi, branded petrol is priced at Rs 81.88. Similarly, normal diesel in Delhi costs Rs 52.54 a litre while branded diesel is priced at Rs 67.93.
"To enhance the fuel efficiency of new generation vehicles, specialised products (branded petrol and diesel) were launched by oil marketing companies in line with global trends and in keeping with the technological advancement in the automobile industry," the Oil Ministry said in a statement issued on completion of one-month of fuel conservation drive.
The Finance Ministry had in 2009 Budget introduced new duties on branded fuels, which raised the differential between regular and branded fuel. "Due to this, sales of branded fuels have started sliding," it said.
Also, in September last year, the government stopped providing subsidy on branded fuel, resulting in further dip in sales. The current unbranded or normal diesel price of Rs 52.54 a litre includes a subsidy of Rs 9.20.
Ever since their introduction in 2002, sale of premium or branded fuels have dwindled from a peak of 5.9 million kilolitres of diesel and 3.4 million kl of petrol in 2007-08 to a mere 0.45 kl of diesel and 0.09 kl of petrol in 2012-13.
Moily has "requested the Ministry of Finance to review the duties levied on branded fuels to bring down the price differential so that consumers opt for branded fuel and this will help improve the fuel efficiency (by about 2 per cent) resulting in reduction in overall demand for petroleum products," the statement said.

Currently, the government levies an excise duty of Rs 1.20 per litre on normal or unbranded petrol while the same on branded petrol is Rs 7.50. Similarly, unbranded diesel attracts an excise duty of Rs 1.46 per litre while Rs 3.75 duty is levied on branded diesel.
Moily says the reduction in excise duty by Rs 6.30 per litre on petrol and Rs 2.29 on diesel would not impact government revenues as current sale of branded fuels was "meager". But it would help in conservation as these fuels provide improved engine performance to yield 2 per cent savings in consumption.
Branded petrol and diesel is priced at a premium to regular fuel as additives put in them remove harmful deposits from engines, prevent corrosion, reduce emissions and lower maintenance costs.
Moily had on October 1 launched a nationwide mega campaign to conserve oil. "The purpose of the conservation campaign is to reduce consumption of key petroleum products by minimising wastage through simple fuel saving measures," the statement said.
The conservation drive is aimed at saving 3% fuel or about Rs 16,000 crore in one year. "The Petroleum Ministry has also urged the Ministry of Power to notify 'Fuel Economy' norms for passenger cars within this year," it said.
Moily will shortly convene a meeting of all stakeholders to discuss the modalities of developing and bringing these norms into effect given the fact that countries like the US and China have already announced ambitious targets.
The Petroleum Ministry has already approached the Ministry of Urban Development with the offer of funding "free cycles scheme" in select cities to cut down on fuel consumption.
It will also be approaching Chief Ministers of all States with a similar offer so that cities which come forward with such schemes, can be provided resources by the oil companies to implement such projects.
Officials in the Ministry and the 14 PSUs under it are "religiously" using public transport on at least one day a week to highlight the need to adopt public transport, reduce fuel consumption by government agencies and to enlist the support of the wider public in this campaign.
"Karnataka has also recently joined this effort by announcing "bus day" in Bangalore and it is hoped more and more States will also follow suit," the statement said.