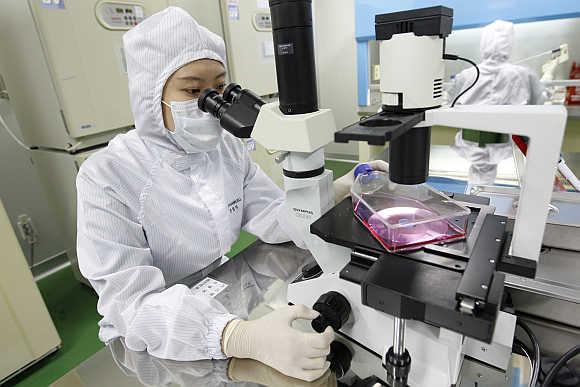 The finance ministry is resisting pressure from other departments to cap foreign ownership of domestic drug makers, fearing such a move would discourage potential investors, a senior ministry source said.
The industry ministry and the health ministry have proposed that the government limit foreign ownership to 49 percent of domestic pharmaceutical firms that produce critical drugs such as vaccines and cancer treatment medicines.
The proposed cap comes as Finance Minister P Chidambaram is seeking foreign money to help revive the economy and fund a wide current account deficit.
"It will be a retrograde step and discourage investors," said a senior official at the finance ministry, who has direct knowledge of the issue.
"The investment climate is already so bad. Who would like to come after such decisions?" he said, adding the ministry expects the cabinet to take what he described as an "appropriate" decision.
Some members of government, health activists and the opposition are concerned that a string of takeovers of Indian generic drugmakers by foreign pharmaceutical companies could limit access for the poor to medicine.
A top official at the industry ministry said concerns arose after the government approved a deal by U.S.-based Mylan to buy a unit of Strides Arco lab Ltd for about $1.6 billion in September.
The official said the takeover of generic drug manufacturers could make medicines unaffordable for the poor among India's 1.2 billion population.
India's pharmaceutical sector attracted $11.39 billion in foreign investment between 2000 and August 2013, roughly 6 percent of its total $200 billion foreign investment inflows, according to the Department of Industrial Policy & Promotion (DIPP).
A move to restrict foreign investment would roll back a 2012 policy allowing 100 percent ownership in the sector.
Industry analysts say such a decision would affect Indian companies looking for foreign partners to help expand their capacity.
"If this is implemented, it would be a disaster for the pharmaceutical industry," Ranjit Kapadia, an analyst at Centrum Broking, said. "Companies want majority control. If that is capped, then foreign investor sentiment would definitely take a hit."
ALTERNATIVE PROPOSALS
A decision on the proposal, which may be discussed by the cabinet on Thursday, could take some time.
The source said the ministry had proposed alternative ways to ease concerns about access to medicine.
One idea is to promote generic drugs through tax or fiscal incentives, the official said, adding that greater investment in the sector would help keep down domestic prices and push up exports.
The finance ministry also says that recent moves to restrict the prices of close to 400 drugs, including treatments for diabetes, cancer and hypertension, are a better way to tackle price issues.
"We can bring more drugs under price control if the purpose is to check prices," the finance official said.
Global drugmakers are looking to boost their presence in emerging markets including India to gain access to production of cheaper generic medicines as governments worldwide battle rising healthcare costs and patents expire for a large number of drugs.
Earlier this year, a parliamentary panel headed by Shanta Kumar, a leader of the main opposition Bharatiya Janata Party, asked the government to prohibit foreign investors from buying stakes in India's low-cost generic drug firms, claiming this was pushing up prices.
"A few more takeovers of this kind may destroy the benefits arising out of India's generics revolution," the panel wrote in a report submitted to parliament in August.
The health ministry has expressed concerns that takeovers of generic drugmakers could hit the supply of drugs for government health programmes.
India plans to almost double spending on the health in the next five years. It currently has one of the lowest vaccination coverage levels in the world.
Industry officials and bankers deny that the takeovers have pushed up prices or affected access to drugs.
Additional reporting by Abhishek Vishnoi in Mumbai