Highest-ever mobilisation in first half of any fiscal year; bankers expect the trend to continue, given strong pipeline.
Illustration: Uttam Ghosh/Rediff.com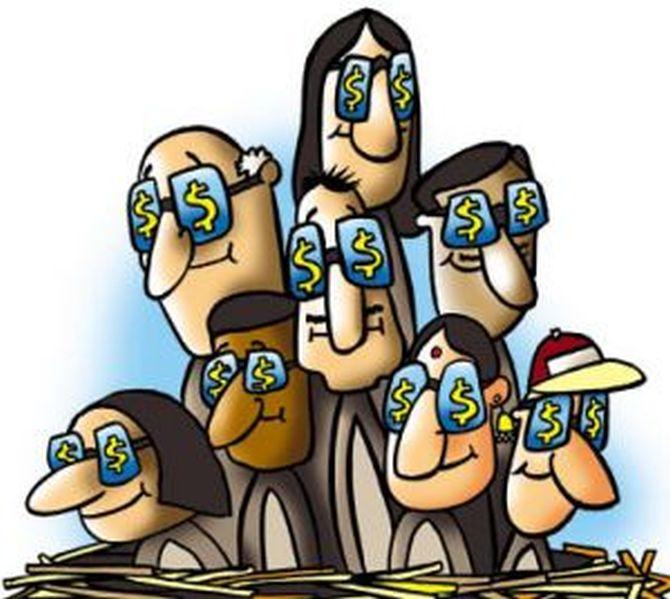 Seventeen companies have raised Rs 25,500 crore (Rs 255 billion) through their initial public offerings (IPOs) in the first half of FY18 - the highest-ever mobilisation by IPOs in the first half of any financial year, according to data provided by Prime Database.
The previous best was in the first half of FY08, when Rs 21,243 crore (Rs 212.43 billion) was raised.
According to market players, the momentum would stay as the pipeline of companies waiting to hit the market remains strong.
Investment bankers say there could be IPO mobilisation worth over Rs 20,000 crore (Rs 200 billion) in the second half of the current financial year.
Some of the prominent names include General Insurance Corporation (GIC Re), Hindustan Aeronautics and New India Assurance. In the next fortnight alone, at least three IPOs of MAS Financial Services, Godrej Agrovet and Indian Energy Exchange (IEX) - would open for subscription.
A sharp rally in secondary markets this year is a supportive sentiment for both issuers and subscribers.
Also, domestic institutions, led by mutual funds, are sitting on a huge pile of cash and are on the lookout for more investment opportunities.
Further, a majority of the IPOs have delivered stellar listing day gains and have outperformed the benchmark indices in terms of returns.
The BSE IPO index, a gauge of newly listed companies, went up 16 per cent during the current financial year, against a 5.6 per cent rally posted by the benchmark Sensex.
"This is a great time for IPOs, as there is a lot of positive sentiment among investors. The rally in secondary markets is also supporting the primary markets. There is also a strong demand in the market for fresh paper. That is why all the IPOs, irrespective of their book size, are oversubscribed. We are also seeing companies from relatively new sectors such as insurance hitting the markets, which is a healthy sign," said Salil Pitale, managing director (investment banking), Axis Capital.
Besides, an aggressive divestment by the government is providing impetus to the IPO market. The first half of FY18 saw the listing of two public sector entities - Hudco and Cochin Shipyard.
"The government has become proactive in completing the listing of various PSUs (public sector undertakings). During the year, we saw a couple of PSUs tap the markets. Both issues received good response from investors. We can expect more public sector entities launching IPOs in the next six months," said Nipun Goel, head of investment banking, IIFL.
Some of the big-ticket IPOs during the period were SBI Life Insurance, ICICI Lombard, AU Small Financial Bank, Cochin Shipyard and Matrimony.com.