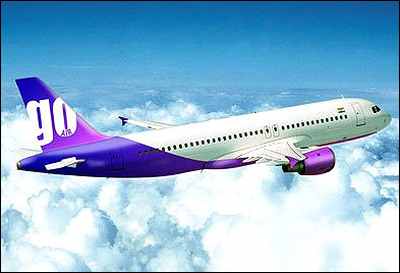 It is the smallest airline in India with a fleet of 15 aircraft.

Yet, despite high operating costs in India that have made larger rivals such as Kingfisher Airlines go bust, the Wadia Group-promoted company posted healthy profits in the past financial year.

Chief executive Giorgio de Roni explains to Business Standard the merit of GoAir's cautious approach.

Edited excerpts:

GoAir is said to have a cautious approach in adding capacity and expanding operations, which has limited the airline's market share. How true are such allegations?

It is not a part of our strategy to chase market share.

We want to develop a sustainable business model. We were profitable last year and we will certainly declare profits for the first quarter of the current financial year.

In 2011, we had placed order for 72 aircraft, deliveries for which will be made between 2016 and 2020.

In the meantime, we will add one aircraft on July 10, two in October and one more in February next year, taking our fleet size to 19.

We are growing but we have a cautious approach.

The Wadia Group was set up in 1736 and is in business for over two centuries.

We are here to stay.

India is growing and the aviation market here is estimated to become the third largest in the world by 2020.
We want to play a big role in it.
GoAir has evinced interest in commencing international operations. How close are such plans towards realisation?
To fly international, a domestic airline needs to be in operation for five years and have a fleet of 20 aircraft.
We started operations in 2005, we are meeting the requirement in terms of business experience.
We have applied for a waiver of the 20-aircraft regulation for flying international.
If a foreign airline can fly without meeting any such conditions, why should not a domestic airline be allowed to do the same? Specially, when it increases tourism, generates opportunities in terms of both trade and employment.
We have written to the ministry over a year back and hope to receive a positive response.
Such a regulation amounts to discrimination against Indian airlines.
How long will it take to start GoAir's first international flight? Is a business plan in place for any destination?
We hope to start international operations soon. We have started work on a business plan.
The destinations we fly to from India would depend on traffic rights.
We already fly our aircraft 13.5 hours a day and if we have to improve productivity, we need to fly in the night as well.
The idea is to improve utilisation by flying on international routes. The Gulf is a possibility.