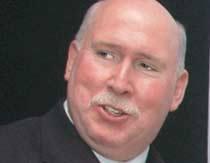 The spotlight that was firmly on him in the last week of May still rankles William S Pinckney, managing director and chief executive officer of Amway India. He was arrested by the Kerala police for alleged violation of the Prize Chits and Money Circulation Schemes (Banning) Act.

In this interview with Business Standard, the head of the country's largest direct-selling company says the Act has nothing to do with Amway's business model, which operates successfully in around 100 countries.

Edited excerpts:

Direct selling companies like yours have been under the authorities' scrutiny. Why?

India, unlike every other country in the world, does not have specific guidelines for direct-selling companies.

Various authorities try to put the segment under various laws and these are not really applicable.

In any sector, there would be good and honourable operators and there would be some who operate scams.

You have had a number of chit fund scams, you had a number of fly-by-night companies that have came in and gone out.

Regulators, unfortunately, in the absence of a clear definition, can't tell the difference.

And, often, these companies are caught and what they say is, 'Oh, you have heard of Amway? We are just like them'.

And, we get brought under the scanner for the wrong reasons.

But when you set up shop in India, you must have known that you come under the Prize Chits and Money Circulation Schemes (Banning) Act.

This Act has nothing to do with what a direct-selling company like Amway does.

We sell products, we don't sell cheques.

We don't collect money in any way. Simply, people become Amway distributors.

It costs them nothing.

It's free.

There is no obligation to become an Amway distributor, to buy anything or sell anything.

That's totally up to you.

It's a pretty straightforward business model, has been there for over 100 years, operates in some 100 countries around the world very successfully and should also work here very successfully.

But when you got Foreign Investment Promotion Board clearance, you knew you'd be under this Act?

Absolutely not.

We came to India in 1995 and it took us three years to get FIPB approval.

We gave them a document that explained every detail of our business plan.

Why would we get the approval to enter when, in fact, we are going to be infringed, when the Act was currently there?

How stupid is that? When you read the Act, it has nothing to do with people who sell products.

It's got to do with chit funds.

How can you call a fast-moving consumer goods company a chit fund?

Is Hindustan Unilever a chit fund?

Is ITC a chit fund?

That is not the case. We are just like any other FMCG company.

You came under scrutiny because you used to charge a membership fee and made money from it. This was not allowed, as it is what a pyramid marketing company does.

I do not charge now.

But I don't think it was wrong.

After all, where in the world can you start a business with Rs 995, have three months to try it out, get free education for the business and get out anytime within 90 days if you wish, and we give you back the Rs 995?

It is very reasonable.

But, people did not understand, regulators misapprehended (our intentions), even though we did not make any money from the entry fee.

So, we decided to take it off the table.

As far as I know, we are the only company in the country which has done that.

Across the world, there are registration fees, entry fees and nobody has any problem, as long as there is a comprehensive money-back guarantee.

Do you follow a pyramid marketing model, which is coming under scrutiny and might not be allowed?

We are not a pyramid. We just create more business opportunities for our distributors, by getting more people to join the business or sponsor others.

There is a hierarchy in every company. In any pyramid scheme, the guy on top makes more money than the one down.

But in our structure, the guy down can make more money than the guy on top.

It's not about when you come in.

It's not about your place in the network. It's about how much work you do.

Also, in a pyramid the recruitment fee is shared with the distributor who gets him; in our case, he gets anything.

After your arrest, has Amway changed its stance about India?

Not at all.

We have a long-term view of India and the Kerala incident was an aberration.

We are investing Rs 500 crore (Rs 5 billion) to set up a manufacturing unit.

We are committed as we always have been.

Ten years from now, this will be a Rs 10,000-crore (Rs 100-billion) business.

Don't you think there was a lot of mis-selling at the ground level by the people who actually represent Amway or the to-be distributors of this company?

We do everything we can.

We try to prevent that, stop that.

We do that through education, we do that in all possible ways.

This is another reason why we have such a comprehensive money-back guarantee.

If somebody has promised something and that does not happen, we will give you back the money.

There is also a perception that your products are priced much higher than competing products, primarily because you pass a lot to the direct distributors and there is no transparency in pricing.

We are absolutely transparent.

You become an Amway distributor and you know the price at which we sell to the distributors, as we sell in wholesale. We have products like coconut oil priced below Rs 100, priced competitively with Parachute, and also super-premium nutrition products.

It's the consumer who makes the choice. Our products cost no more or no less than any other company's products.

It's just that our distribution system is different.

Other companies spend a huge amount in advertisements; we do not. We share that money as commission.

At the end of the day, we don't have super-stockists, distributors, dealers and others who also make huge money from commissions. We just offer a commission to our distributors.

It's just a different way to pay the same money.

Does the present system of offering membership free to distributors impact others, as now anyone who wants to buy a product for his own use can become a distributor and get a lower price? Will this impact the model, as distributors will not be able to expand their business by selling to others?

That happens a little.

But Indian consumers like to be serviced; they don't want to take their car and pick up products from outlets.

Yes, it affects the model a little bit. But not completely.

There has been a consistent attack on you. Is it because you have become a pretty large FMCG company and there are companies which are worried?

I really struggle to comprehend this.

I understand that if you get bigger, more folks look at you.

Maybe this is because of the folks who personally do not like it.

They have decided that it is bad, for everybody else as well. And, they become crusaders.
Image: William S Pinckney