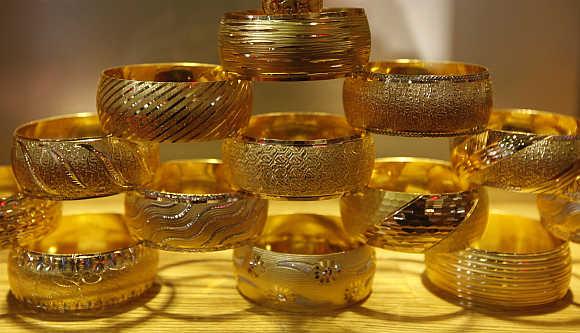 Exports grew by a meagre 3.79 per cent in January to $26.7 billion but imports, particularly gold and silver, declined, narrowing trade deficit sharply to $9.92 billion in the month.
The deficit was $18.9 billion in January, 2013. Director General of Foreign Trade Anup Pujari said export growth was in single digit because of a decline in outbound shipments of major products-- gems and jewellery and petroleum.
"Petroleum and gems and jewellery have shown a decline in exports. As a result, when my major two things among the top four are showing decline, exports are not going far," he said.
Petroleum and gems and jewellery exports in January contracted by 13.1 per cent and 9.39 per cent, respectively.
Imports fell by 18.07 per cent to $36.6 billion in January. A decline gold and silver imports mainly contributed to bridging the trade gap. Their imports dipped by 77 per cent to $1.72 billion in January from $7.49 billion in the same month last year.
Oil imports too declined by 10.1 per cent in the month under review to $13.18 billion. Apex exporters body FIEO expressed serious concerns over the declining trend in exports from October, 2013 onwards.
"The continued modest growth in exports is worrisome to achieve the targets for this fiscal. It indicates that Indian exporters need immediate attention to bring exports back on track," Federation of Indian Export Organisations (FIEO) President Rafeeque Ahmed said in a statement.
After registering 13.47 per cent growth in October, 2013, exports recorded a growth of 5.86 per cent and 3.49 per cent in November and December respectively.
The upward trend in exports is maintained and that gives satisfaction, Commerce Secretary Rajeev Kher said, adding that there is lot needs to be done. Narrowing trade deficit rejoicing he said.