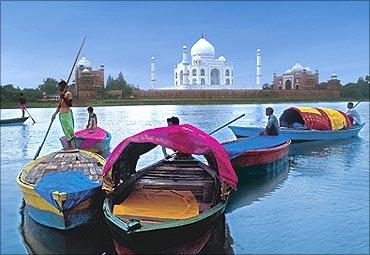 India will extend the visa-on-arrival facility to all countries except eight with effect from September.
The countries not covered under this single-entry e-visa facility, meant for purposes other than paid employment and education with a one-month time limit, are Pakistan, Sudan, Afghanistan, Iran, Iraq, Nigeria, Sri Lanka and Somalia.
The facility is currently available to 11 countries, including New Zealand, Singapore, Luxembourg, Japan and Finland.
With Friday's government decision, India expects to become the world's number-one tourist destination, according to a government official. The country's total foreign tourist arrivals in 2013 stood at 6.84 million. Forex earnings from tourism grew 2.2 per cent year-on-year to $18.1 billion.
"Both the procedure and the scope of visa on arrival for tourists have been widened to boost tourism," said Rajeev Shukla, minister of state in the Planning Commission. He said the facility could later be extended to business visa seekers. To begin, around 26 airports in the country will have the infrastructure to provide the facility. Tourists will just have to a fill a simple form and pay the prescribed fee, after which they will be issued electronic travel authorisation within three days.
On arrival in India, a simple biometric identification will be done at the airport. To extend stay beyond 30 days, the tourist will have to get another visa from the embassy.
"This has removed a major bottleneck for the country, but this alone would not help. We need to ramp up our marketing activities internationally to attract tourists," said Subhash Goyal, president, Indian Association of Tour Operators.
Madhavan Menon, managing director, Thomas Cook India, pointed at the implementation hurdles. "The reality is that we don't have the infrastructure to support such plans. They also need to see if we have the wherewithal to host such a large number of tourists," he said. Around 1,090 more employees will be required to man the immigration counters at airports while there are 1,900 vacant posts in the department of immigration, according to Shukla.
Besides manpower, the home ministry has asked for additional infrastructure and a secure payment gateway for processing of these applications. Currently, a trial run for providing e-visas is underway for 140 countries.
There were some objections to the expansion of the facility raised by the ministry of home affairs over security issues and by the ministry of external affairs over reciprocity, which were resolved on Friday, Shukla said.