Indian companies raised $1.99 billion from overseas markets in June, lower than $3.37 billion in the previous month, the Reserve Bank of India [ Get Quote ] said on Wednesday.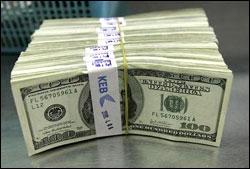 Indian firms raised the money via external commercial borrowings (ECBs) and foreign currency convertible bonds (FCCBs).
The companies raised $1.96 billion through automatic route and $31.52 million from approval route.
JBF Petrochemicals, JSW Steel [ Get Quote ], Rajasthan [ Images ] Sun Technique Energy, Mercedes-Benz India, Azure Solar, Ranbaxy Laboratories [ Get Quote ], Indian Synthetic Rubber and Subex were among the major companies that borrowed money from foreign sources during the month.
JBF Petrochemicals raised $416 million for its new project. Rajasthan Sun Technique Energy raised $268.33 million in four separate tranches to fund its power projects.
Mercedes-Benz India raised $232.14 million for modernisation purpose.
JSW Steel raised $225 million for redemption of FCCBs, while Subex raised $131.1 million for refinancing its FCCBs, RBI said.