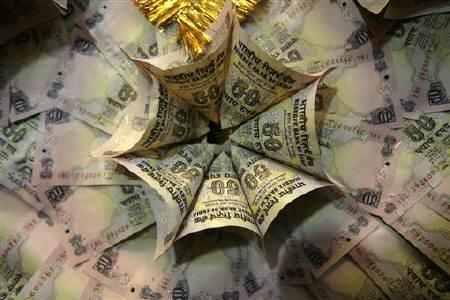 India's economic growth could fall to 5.5 per cent this fiscal before seeing gradual recovery next year, a RBI-sponsored survey said.
The latest estimate, coming a day ahead of the RBI quarterly monetary policy review, is lower than the government's revised annual growth estimate of 5.7 per cent.
The median growth projection has been revised downwards to 5.5 per cent on the back of slower growth for 2012-13 fiscal, said the 22nd round of survey by professional forecasters of RBI.
While the government expects the economy to grow by 5.7 per cent in the current fiscal, the RBI had earlier projected a growth rate of 5.8 per cent.
The RBI sponsored survey said that there would be a gradual recovery in 2013-14 and the economy could clock a growth of 6.5 per cent.
The Indian economy grew at over 8 per cent for two consecutive years before declining to 6.5 per cent in 2011-12 fiscal.
"Growth in 2012-13 is likely to fall below the reserve Bank's baseline projection of 5.8 per cent," the RBI said in its third quarter review of Macroeconomic and Monetary Developments.
It said due to supply and infrastructure bottlenecks and slack in external demand, the industrial output is contracting. This has also impacted the economic growth in the first half of the current fiscal which stood at 5.4 per cent.
"Even though a modest recovery may set in from Q4 of 2012-13 as reforms and efforts to remove structural constraints get underway, sustaining this recovery through 2013-14 would require all-round efforts in removing impediments for business activity.
"With global recovery likely to stay muted in the near term, closing the output gap in India would be challenging," the RBI said.
To boost growth, the government has taken a host of fiscal measures including liberalisation of FDI in multibrand retail, amendment of Banking Regulations Act and setting up of Cabinet Committee on Investment to accord fast track clearances to large value projects.
"It is imperative that reform measures continue to be executed efficiently and domestic inflation recedes further to support sustainable recovery in India," RBI said.