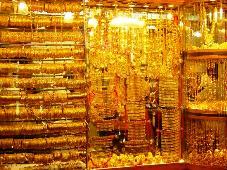 The finance ministry is considering raising import duty on gold by two percentage points to six per cent, as the surge in demand for the yellow metal threatens to further widen India's current account deficit.

A finance ministry official said a 200-basis-point increase was being considered.

Another official added the increase could be part of Budget announcements next month.

They, however, agreed there were concerns the hike might lead to import of gold through illegal channels.

"Customs on gold import may be raised to six per cent, though there are concerns it might lead to smuggling," said an official asking
not to be named.
Experts say gold has given attractive returns to buyers in recent years and, as long as the trajectory continues, a small duty rise might not deter people from importing gold. Bankers have cautioned lower gold imports might hurt jewellery exports.
Earlier this month, Finance Minister P Chidambaram had said the government might consider steps to make import of gold more expensive to discourage people from buying the unproductive commodity.
In January 2012, basic Customs duty was raised from Rs 300 per 10g to an ad valorem rate of two per cent on standard gold bars and five per cent on non-standard ones.
In Budget, it was doubled to four per cent and 10 per cent, respectively.