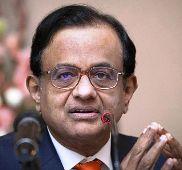 Encouraged by the 8.2 per cent growth in industrial output in October, Finance Minister P Chidambaram said on Wednesday that it reflected emergence of 'green shoots' in the economy.

"I am very encouraged by the indications of the green shoots in economy in terms of production. IIP figures are very encouraging", he told reporters in New Delhi.

The factory output, as measured by the Index of Industrial Production, soared to 16-month high of 8.2 per cent in October on good performance of the manufacturing, power sector and higher output of capital as well as consumer goods, indicating sudden recovery in the economy.

It had contracted by 5 per cent in October in the previous fiscal.

So far this fiscal, Chidambaram said, IIP had shown positive growth only in May at 2.5 per cent and August at 2.3 per cent.

"Let's see what the next four months bring us. Investments are taking place, capacity is being created and consumption is happening in consumer durables and non-durables", the Minister said.

He said that intermediate goods, a good indicator of future production, grew by 9.4 per cent.

"Capital goods output at 7.5 per cent is very encouraging. Since April it was in negative. This is the first month of positive growth", he added.

The capital goods output, it may be recalled, dipped by a whooping 26.5 per cent in October 2011.

The manufacturing sector, which constitutes over 75 per cent of the index, grew by robust 9.6 per cent in October, as against a contraction of 6 per cent in same month last year.
Image: P Chidambaram