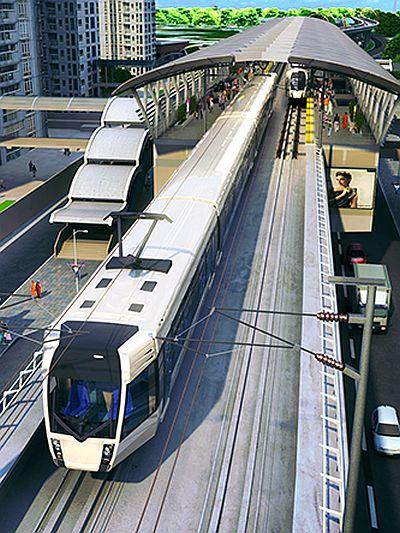 L&T Metro Rail (Hyderabad), a special purpose vehicle incorporated to execute the elevated metro rail project in Hyderabad, expects 50-55 per cent of its revenues coming in from real estate and the rest from ridership in the initial years, according to chief executive officer and managing director Vivek B Gadgil.
"These models are not static but dynamic in nature. This ratio will change when the ridership picks up over a period of time... and they will definitely change depending on the city's development also," he told mediapersons, on the sidelines of an international conference on public-private partnership organised by the Institute of Public Enterprise, here on Thursday.
The over Rs 15,000-crore (Rs 150 billion) project comprises 72 kilometre of elevated metro rail line and six million sft of transit-oriented development (TOD). Gadgil said while the total TOD proposed was 18.5 million sft, the company would execute six million sft first and then consider taking up the remaining 12.5 million sft either utilising accrued rentals or on a project-by-project basis.
Stating that 90-95 per cent of civil works on Stage-I (between Nagole and Mettuguda) was almost complete, and expected to be commissioned by March 21, 2015, he said the first full train with three coaches would arrive from Hyundai Rotem in South Korea by April-end or early May for trial runs at the depot.
L&T Metro had already tied up funds with the banks. While it has been granted a viability gap funding of Rs 1,400 crore (Rs 14 billion), the company has thus far spent around Rs 3,000 crore (Rs 30 billion) on the project through equity and debt in equal proportions.
Also, the company has taken a comprehensive insurance policy and has so far paid a premium of Rs 27 crore (Rs 270 million)to cover the project for the initial three-and-a-half to four years.
To a query on whether the bifurcation of the state and the uncertainty surrounding it would have any likely impact on the passenger traffic of the Hyderabad metro rail project, Gadgil replied in the negative.
On whether the company was seeing any impact on the overall project costs with the interest rates rising by almost 2%, he said the company had drawn a loan of 15% and that was definitely affected.