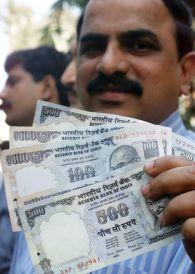 The Indian rupee rose on Wednesday, snapping a five-session losing streak, as the central bank stepped in to calm markets, saying that it would not rush with tapering its oil dollar swap window.

Reserve Bank of India Governor Raghuram Rajan, in a hurriedly called press conference, said that the central bank has now routed back most of the dollar demand from oil companies to the market.

He also said that there were various options for the oil companies to repay the dollars to the central bank when the swaps under the oil window matured.

The central bank was also cited intervening in
early trades after the rupee fell in line with other Asian currencies on chatter about an early taper of the US monetary stimulus.
The rupee ended at 63.30/31 to the dollar versus its Tuesday close of 63.71/72.
It rose 0.6 per cent, its biggest single-day gain in nearly a month.
Earlier in the session, it had fallen to 63.90, a nine-week low.
In the offshore non-deliverable forwards, the one-month contract was at 64.03, while the three-month was at 65.17.
FACTORS TO WATCH
• Dollar underpinned by Fed taper expectations
• Risk appetite subdued on Fed uncertainty
• Foreign institutional investor flows
• For data on currency futures