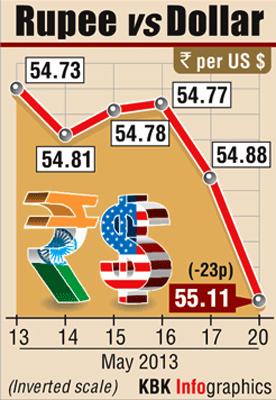 The rupee on Monday fell to its nearly five-month low level of 55.11 by losing 23 paise on sustained dollar demand from oil importers and concerns over possible rating downgrade by S&P.

Forex dealers said weakness in local equities and a firm dollar overseas against other currencies also weighed on the rupee.

The local unit commenced the day lower at 55.06 against the dollar from its Friday's close of 54.88 at the Interbank Foreign Exchange (Forex), market.

However, it later recovered to a high of 54.80 on dollar selling by exporters and initial firmness in domestic equities but again fell to a low of 55.20, before settling at 55.11, a fall of 23 paise, or 0.41 per cent.

It is rupee's lowest level since January 7 this year, when it had closed at 55.23.

"The fall in rupee was expected after S&P's warning to downgrade the Indian economy to junk
status on Friday.
"Also a bearish stock market and weakening in euro and Japanese yen against the dollar also dampened the rupee sentiment today," said N S Venkatesh, Head (Treasury) at IDBI Bank.
He added that rupee will move in a range of 54.80-55.20 this week.
On Friday, global agency Standard & Poor's threatened to downgrade India's rating to 'junk' status if it fails to pursue reforms.
The BSE Sensex today closed down by over 62 points at 20,223.98.
Foreign institutional investors pumped in around $137 million (Rs 753.37 crore) into domestic equities today, according to BSE provisional data.
The dollar index was down by 0.25 per cent against a basket of six major global currencies.
Pramit Brahmbhatt, CEO, Alpari Financial Services (India) said: "The dollar index, which tracks the performance of the greenback versus a basket of six other major currencies, traded weak today as the euro lost against the dollar which hit the rupee."