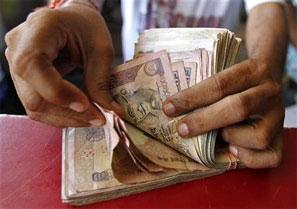 Narendra Modi-led BJP's thumping victory on Friday lifted the rupee to an 11-month closing high of 58.79 against the US dollar, adding 50 paise in the third straight day of gains as exporters sold the US currency and whopping Rs 3,600 crore (Rs 36 billion) of FII funds flowed into stock market.
The rupee resumed strong at 59.00 a dollar at the Interbank Foreign Exchange (Forex) market from previous close of 59.29.
Later, it moved in a range of 58.62 and 59.11 before concluding at 58.79, showing a rise of 50 paise or 0.84 per cent. Previously, it had settled at 58.70 on June 19, 2013. Foreign institutional investors (FIIs) bought a net Rs 3,634.82 crore ( Rs 36.34 billion) worth equities, boosting the value of rupee.
Trends show that BJP alone would end up with nearly 280 seats, first time in about 30 years that a single party will win majority in Indian Lok Sabha elections.
In straight three sessions, rupee has flared up 126 paise or 2.10 per cent. "The BJP won a clear majority in general elections leading to optimism in Indian markets," said Suresh Nair, Director, Admisi Forex India Pvt Ltd.
Standard & Poor's Ratings Services expects the new India government's reform initiatives in economic and fiscal policies in the next two to three months may have significant implications on the sovereign credit rating on India.
The recent surge in rupee has been on the back of hopes that new government will come out with investor friendly policies , which will lead to higher inflows, said Sugandha Sachdeva, AVP & Incharge- Metals, Energy & Currency Research, Religare Securities.
Meanwhile, the Indian benchmark S&P BSE sensex, which was up by 1,470 points in late morning deals, washed out major part of early gains and closed up by 216.14 points.
Pramit Brahmbhatt, Veracity Group CEO said, "Rupee posted its third weekly gain in a row. The trading range for the Spot USD/INR pair is expected to be within 58.50 to 59.50."