The rupee on Tuesday hit an over three-and-a-half-month high of 53.13, up 15 paise, on renewed dollar selling and recovery of euro against the US currency overseas.
Forex dealers said sustained foreign fund flows also aided the trading sentiment in rupee's favour.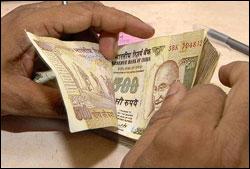 The local unit commenced lower at 53.40 against the dollar from yesterday's close of 53.28 at the Interbank Foreign Exchange (Forex) market.
It hovered in a range of 53.07-53.42 before settling at 53.13 on fag-end dollar selling, registering a gain of 15 paise, or 0.28 per cent, against the dollar.
"Initially, the rupee was seen depreciating taking cues from the falling euro and the recovery in the US dollar index. Euro fell below 1.3500 yesterday after the news of Spanish Prime Minister's involvement in the corruption scandal," said Abhishek Goenka, Founder and CEO, India Forex Advisors.
Foreign institutional investors pumped in over $92 million (Rs 489.27 crore) into local equities today, as per BSE provisional data.
During the Indian Forex market hours, the euro was trading flat at 1.3513 against the US dollar, paring previous losses.
Pramit Brahmbhatt, CEO, Alpari Financial Services (India) said: "The mixed response of global markets helped the rupee convert its losses of first hour of the session into gains towards the end of session.
"The euro and pound, which had lost most to US dollar in previous session, rebounded from their lows after the better than expected UK services PMI numbers were reported. Recovery in European markets today also aided the rupee."
The dollar index, which was up by nearly 0.4 per cent in early stages on revival of euro-zone debt concerns, washed out its gains and was quoting down by 0.07 per cent.
Meanwhile, the BSE benchmark Sensex today closed down by 91.37 points at 19,659.82.
The premium for the forward dollar ended stable. The benchmark six-month forward dollar premium payable in July finished at its overnight closing level of 182-183-1/2 paise.
Far-forward contracts maturing in January also settled steady at 341-1/2-343 paise.
The RBI has fixed the reference rate for the US dollar at 53.2945 and for euro at 71.8773.
The rupee improved further slightly against the pound sterling to 83.76 from Monday's close of 83.79 and also remained firm against the euro to 72.03 from 72.26.
It hardened further against the Japanese yen to 57.06 per 100 yen from previous close of 57.40.