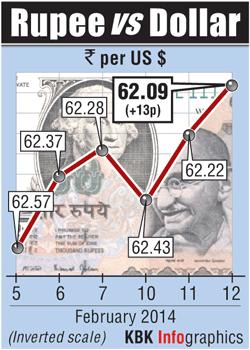 The rupee gained for a second straight session on Wednesday after large dollar inflows hit the market following the conclusion of a two-day national banking strike on Tuesday, while a rally in global risk assets also helped sentiment.

Domestic shares and other global markets rose on upbeat trade data from China earlier in the day and after a US House deal extending the federal borrowing authority.

Lack of surprises in new Federal Reserve Chair Janet Yellen's first congressional testimony also helped.

But some caution prevailed ahead of consumer inflation data later in the day, which will set expectations before the Reserve Bank of India's policy review on April 1.

"Equity markets and emerging market currencies have shown strength post Yellen's
testimony, in turn helping the rupee," said Paresh Nayar, head of fixed income and foreign exchange trading at First Rand Bank.
The partially convertible rupee closed at 62.09/10 per dollar compared with Tuesday close of 62.22/23.
The session was marked by large dollar inflows after a two-day strike by bank employees that ended on Tuesday was estimated to have impacted market volumes by as much as 50 percent.
Gains were also helped as Indian shares rose for a second consecutive day on Wednesday as blue chips rallied in line with higher global stocks.
Separately, the Reserve Bank of India said on Tuesday it had bought a net $3.48 billion in the spot foreign exchange market in December while its total outstanding net forward dollar sales stood at $32.6 billion.
In the offshore non-deliverable forwards, the one-month contract was at 62.42, while the three-month was at 63.28.