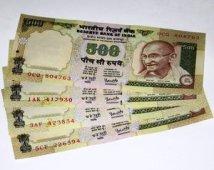 The rupee on Wednesday strengthened by 18 paise, breaking its two-day losing string, to close at 55.47 against the US dollar on robust capital inflows in the stock market and exporters selling the American currency ahead of the outcome of a key US Federal Reserve meet.

At the Interbank Foreign Exchange market, the domestic unit commenced lower at 55.75, which was also to be the day's low.

Amid FIIs pumping in over Rs 441 crore in stocks, the rupee later bounced back to a high of 55.43 before concluding at 55.47, a rise of 18 paise or 0.32 per cent. In the previous two days, rupee lost over 30 paise against the dollar.

Forex traders said exporters sold dollars on hopes of a further fall in dollar value overseas as market participants awaited the conclusion of the US Federal Reserve's two-day policy meeting later in the day.

The dollar index was down by 0.1 per cent against a basket of six major currencies.

Any quantitative easing measure is likely to put the dollar under stress, said analysts.

The dollar's main rival euro also held steady ahead of Thursday meeting at the European Central Bank where it is expected to set monthly interest rates.

"Today's rupee movement was due to custodial flow of dollars from foreign banks.

Good show in stocks also supported the domestic currency," said N S Venkatesh, Head of Treasury, IDBI Bank.

The Indian stock market benchmark Sensex today extended its gains for the fourth straight session and closed up by over 21 points.

On Tuesday, the RBI had announced that corporates and exporters will be allowed to fully retain foreign exchange earnings as against the earlier provision that 50 per cent of exporters earnings in foreign currency had to be converted into rupee.