The 30 share S&P BSE Sensex ended below 24,000 – first time since May 2014 to settle at 23,962.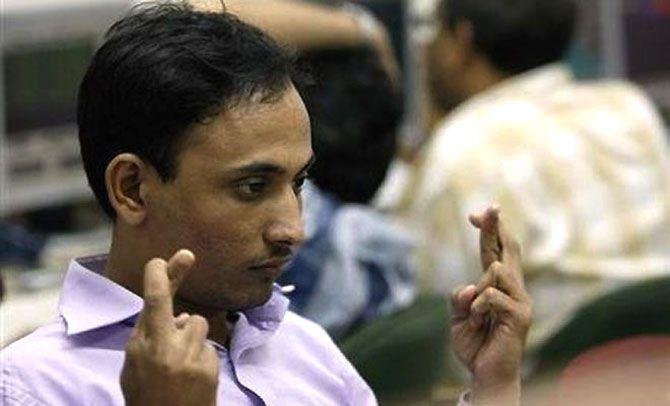 In a yet another turbulent day, markets ended lower amid a sell-off in Asian stocks that had gained earlier but ended with deep incisions as weakness in crude oil prices renewed worries over global growth.
The 30 share S&P BSE Sensex ended below 24,000 – first time since May 2014 to settle at 23,962, down by 100 points while Nifty50 ends at 7,276, down by 32 points.
After a brief recovery, the rupee once again breached the 68-mark in late morning deals, depreciating by 10 paise to 68.05 on heavy bouts of demand for the American currency from banks and importers amid higher dollar overseas.
The selloff in the local equities also weighed on the rupee.
Crude oil in today's trade succumbed to pressure and fell further on consistent worries over less demand in an oversupplied market.
Meanwhile, the Foreign Institutional Investors (FIIs) continued to be the net sellers to the tune of Rs 1,325 crore on Wednesday as per provisional stock exchange data.
GLOBAL MARKETS
After getting a respite in the morning trades, Asian markets erased all of their gains to end lower as crude oil prices resumed the downfall.
Japan's Nikkei ended 2.5% lower while Hang Seng finished 1.9% lower. China's Shanghai Composite cracked 3.3% for the day.
European markets are oscillating between negative and positive zone as all eyes would be on the European Central Bank, which will meet for the policy meeting over interest rates later in the session.
SECTORS & STOCKS
Sectorally, BSE Bankex index ends 1.3% higher while BSE Auto index skid 1.8%.
Banks traded firmly today with Axis Bank finishing as the top gainer, up by 5.2% after it reported a 15% rise in net profit to Rs 2,175 crore in the October-December quarter on the back of higher net interest income and other income.
Following the suit are some of the prominent names including SBI, ICICI Bank, HDFC Bank ending up between 0.5%-1.5%.
Oil exploration majors RIL and ONGC lost between 2%-3% as the crude oil prices again tumbled after a short respite. Among the peers, Cairn India and OIL also slipped between 1%-2% each.
Drug maker Cipla and three other drug makers - Emcure, Hetero and Natco - will sell generic version of Bristol-Myer Squibb's anti-hepatitis drug, Daclatasvir.
The stock, however, owing to the pressure in local equities ended 2.3% down.
Commodity-based stocks witnessed an uptick with Hindalco, Tata Steel, Hindalco up between 1-2%.
Weakness in the Indian rupee has helped the export oriented IT stocks. Wipro and Infosys surged up to 1.5%. TCS however ended 0.7% down.
The auto stocks suffered in today's trade with M&M ending down 1% .Among individual names, Maruti Suzuki finished nearly 4% down while Tata Motors skid over 4%.