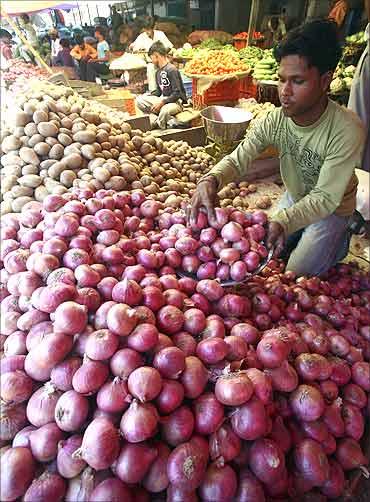 Terming the rise in October retail inflation despite a bumper crop as "disturbing", India Inc said the government must immediately address supply side bottlenecks to bring down the consumer price inflation.
"To turn incipient signs of progress into a firm recovery, there is a need to address structural issues, which are creating supply side hurdles in the way of growth. The sustained high CPI is a direct fallout of inflation in primary articles, which needs supply side interventions," CII Director General Chandrajit Banerjee said.
Costlier vegetables, like onion and tomato as also fruits drove retail inflation to 10.09 per cent in October, the second instance of it entering double digit in seven months.
"The increase in the retail inflation to 10.09 per cent is quite a disturbing trend. What is even more disturbing is that the expectations of prices coming down because of good Monsoon seem to have been belied," Assocham Secretary General D S Rawat said.
"Given the fact there are bumper crop prospects, it is rather surprising and intriguing how there is over 12 per cent inflation in cereals while 45 per cent increase in vegetable prices," Rawat said.
The retail inflation measured in terms of consumer price index (CPI) was at 9.84 per cent in September and 9.52 per cent in the previous month.
Terming the escalation in the CPI inflation as "worrying" President of PHD Chamber of Commerce Suman Jyoti Khaitan said: "There seems to be a severe problem in supply side management as production is not reaching consumers' doorsteps easily. At this juncture, inflation can be tackled only by easing supply side constraints and improving infrastructure rapidly."
The vegetable prices rose 45.67 per cent in October year-on-year, higher than 34.93 per cent inflation recorded in the previous month, as per the government data.
Similarly fruits were dearer by 12.84 per cent. For CPI inflation, price data are collected from select towns by the National Sample Survey Organisation (NSSO) and from select villages by the Department of Posts.
Last month, the Reserve Bank had hiked the key lending rate (repo rate) by 0.25 per cent to contain inflation in continuation of its hard-line stance.