A day after the Reserve Bank expressed concern over rising inflation, global credit ratings agency S&P warned that the high rate of price rise could derail India's growth.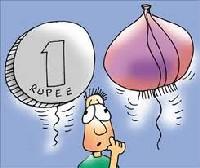 "High inflation could derail India's stable macroeconomic and interest rate environment", Standard & Poor's said in a statement.

The agency, however, retained India's long-term rating outlook at 'stable', citing strong external position and positive investment trends.

"The ratings on India reflect the country's good economic growth prospects and its fairly strong external position," S&P said, adding that positive investments in the form of foreign direct investments and portfolio capital further strengthen the ratings.

The report said that even as the government follows the path of fiscal consolidation, rising oil prices could lead to slippages.

Food inflation was 9.5 per cent for the week ended March 19. The overall inflation in February was 8.31 per cent.

"Although the government has started to tackle the problem of inflated subsidies, these remain high and prone to the volatility in global commodity prices, especially that of fuel," S&P said.

It said high fiscal deficit and debt burden remain the most significant negative rating factor.

"The country's weak fiscal profile and structural problems temper its strengths. Structural problems not only constrain efficiency but also preclude a large share of the population from benefiting from the country's rising prosperity," S&P added.

It said India remains vulnerable to international commodity prices and the monsoon. These two factors have led to a substantial increase in inflationary pressure.

The Reserve Bank has already hiked key policy rates eight times since March 2010 to tame inflation.

S&P said the rise in the food prices also represents structural changes, such as India's growing middle class and the resulting shifts in diet patterns.

"Despite the government's effort to address the logistical bottlenecks in the distribution system, it could take time to control inflation," S&P added.

S&P said India's ratings could be revised upwards if the government deficits are reduced significantly. Conversely, loose fiscal policy that may lower India's medium-term growth prospects could result in a downward pressure on the ratings.