The Calcutta high court on Thursday fixed the date for final hearing on the main petition filed by Tata Motors, challenging the Singur Land Rehabilitation and Development Act, 2011.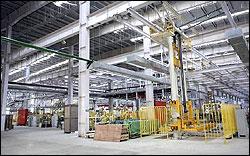 The Calcutta high court has directed the West Bengal government to file an affidavit by July 8 and Tata Motors to file a reply by July 12. Hearing on the petition will start on July 14.

The Supreme Court that directed the West Bengal government not to return land acquired for Tata Motors at Singur to farmers on Wednesday had asked the high court to decide on the matter soon, within a month, if possible.

Tata Motors told mediapersons that the matter would now be taken up by the court. Tata Motors had first filed a writ petition questioning the Singur Act and later moved a fresh petition challenging the rules under the Act, based on reports the state government would distribute
the land.
The West Bengal government was supposed to distribute land to around 12 "unwilling" farmers at Singur on wednesday, when the Supreme Court directive came. There was, however, no bar on going ahead with the process like paper work and measurement of land, etc.
Tatas are seeking possession of the land at Singur on grounds that the Act is unconstitutional, illegal and bad in law.
The Singur Act, which was notified on June 21 by the state government, revoked the lease agreement between the West Bengal Industrial Development Corporation and Tata Motors, taking possession of the entire land (997 acres) allocated to the company and its 54 vendors.
After the Tata Motors matter is heard, the high court will take up the case of "willing" farmers.
Former Kolkata mayor and Communist Party of India (Marxist) leader, Bikash Ranjan Bhattacharya, is representing the 11,000 farmers who sold their land to the state government for the Nano project.