Less than three weeks after admitting a petition to wind up UB Holdings Ltd, the Karnataka high court has admitted a similar petition against another UB Group company, Kingfisher Airlines, pushing Chairman Vijay Mallya further into a corner in the fight to get him to repay the airline's massive debt to creditors.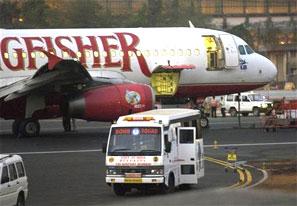 The move also invalidates, albeit temporarily, Mallya's repeated assurances to the court and the public of a revival plan for the carrier.

On Friday, the court admitted a winding-up petition filed by Aerotron Ltd, a supplier to the cash-strapped airline, claiming dues of $6 million, or about Rs 35 crore.

On November 19, judge Anand Byrareddy admitted a similar petition by BNP Paribas against UB Group's principal holding company, UB Holdings Ltd, which owed creditors about Rs 600 crore (Rs 6 billion).
Hearing the winding-up case against Kingfisher Airlines on Friday, Byrareddy dismissed as evidence a UB Group letter assuring of a potential investor in the airline. Earlier, the court had given Kingfisher Airlines lawyers time till Friday to update it on progress in efforts to revive the airline.

An email from the unnamed investor's law firm to State Bank of India, asking the bank to withhold any action on Kingfisher Airlines' assets for the next two months was also considered "inadequate".
A deal with the investor, whose identity wasn't revealed by Mallya or his lawyers due to "strict confidentiality clauses", was expected in about 90 days. Mallya and the prospective investor were to submit by the end of this year a join revival plan to the Directorate General of Civil Aviation.

Now, the court has given the company four weeks to appeal against the order. If Kingfisher fails to secure a stay against Friday's order, an advertisement announcing the winding-up decision will be published in newspapers, notifying all creditors to stake their claim. Employees of Kingfisher Airlines, impleading in the case along with the company and opposing the winding-up petitions of creditors to avoid job losses, also have four weeks to file an objection.

They had invoked preferential payment under a section that granted workmen's dues priority in case of the winding-up of a company, other provisions of the Act notwithstanding. Employees of the trouble-torn airline have not been paid for 15 months.

Lenders firm
While Mallya insisted the potential investor was carrying out due diligence on the company before deciding on the investment, lenders refused to entertain talks of any revival without their consent or participation. They have also refused to give the company more time to repay the dues.

Creditors have already started monetising the personal and corporate guarantees pledged by Mallya, selling pledged shares of United Spirits Ltd, UB Group's biggest company by revenue, and seizing properties given as collateral. When State Bank of India attempted to seize Kingfisher House, the company's corporate headquarters in Mumbai, the company secured a stay on the matter till Friday. Byrareddy heard the arguments related to the case, but reserved the order for now.

While banks are alleging they hold the right to monetise the collateral, Kingfisher's lawyers argue creditors could not do so without the permission of the court, as the matter is sub judice.

The Kingfisher Villa in Goa has already been seized by State bank of India, though the bank cannot carry out any activity or alter any arrangement on the premises, owing to an order secured by Mallya's legal team.

At about Rs 1,600 crore (Rs 16 billion), State Bank of India has the largest exposure to the crisis-hit carrier, followed by Punjab National Bank and IDBI Bank (Rs 800 crore each). Bank of India has lent the company Rs 650 crore (Rs 6.5 billion), Bank of Baroda Rs 550 crore (Rs 5.5 billion) and United Bank of India and Central Bank of India Rs 430 crore (Rs 4.3 billion) and Rs 410 crore (Rs 4.1 billion), respectively.
Besides, Kingfisher also received Rs 320 crore (Rs 3.2 billion) from UCO Bank, Rs 310 crore (Rs 3.1 billion) from Corporation Bank and Rs 150 crore (Rs 1.5 billion) from State Bank of Mysore. The list of creditors also includes Indian Overseas Bank (Rs 140 crore), Federal Bank (Rs 90 crore), Punjab and Sindh Bank (Rs 60 crore) and Axis Bank (Rs 50 crore).