India will make it easier for leasing and finance firms to reclaim planes used by Kingfisher Airlines, two government sources said, after complaints that India was complicating the process.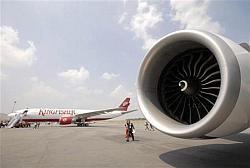 Cash-poor and debt-hit Kingfisher, once India's second-largest carrier by market share, has not flown for five months and finance and leasing companies have warned that India could be starved of the funding it needs to fuel aviation industry growth if repossessing its planes is not made easier.

Germany plane financier DVB Bank SE has sued the aviation regulator and Kingfisher to have two Kingfisher planes it financed deregistered, allowing them to be flown elsewhere.

Kingfisher, which owes about $2.5 billion to banks, airports and others, according to an estimate by consultancy Centre for Asia Pacific Aviation, is reported to have 13 leased planes in its fleet. The number of leased planes could not immediately be confirmed with Kingfisher.

On Tuesday, the government sources said the ministry of civil aviation had decided to try to help remove obstacles to leasing companies' efforts to take back planes from airlines that cannot pay, in compliance with international standards.

Those obstacles include overruling tax authorities, banks and other creditors, which, desperate to recover their dues, are trying take possession of any asset related to Kingfisher.

Last year, Indian tax authorities seized at least two planes in Kingfisher colours, which were parked in Mumbai airport, even though the planes were leased.

Minimising red-tape would also help the leasing companies.

Earlier this year, U.S.-based International Lease Finance Corp (ILFC), one of the world's largest leasing firms, sent a team to repossess planes from Kingfisher for unpaid bills.

The
planes remained stranded by administrative hurdles and problems getting them ready to fly, ILFC Chief Executive Henri Courpron told Reuters in January.
DVB declined to comment on Tuesday, while ILFC was not immediately available to comment. A Kingfisher spokesman did not have an immediate comment.
Indian airlines will need 1,043 new passenger and freighter aircraft valued at $145 billion by 2030 to satisfy rising demand, Airbus said last year. Leasing and finance companies are expected to fund most of those planes.
Separately, India's Director General of Civil Aviation, the top aviation regulator, said he hoped to reach an amicable settlement with DVB, Kingfisher and the Indian tax authorities which took possession of two Kingfisher planes in a bid to recover tax dues. A meeting on the matter is set for March 26.
"We are always willing to help the leasing companies. We are committed to a solution," director general Arun Mishra told Reuters, adding he did not exclude an out of court settlement.
Meanwhile, Jet Airways, India's No. 2 carrier, has taken two ATR propeller planes previously operated by Kingfisher, at a "competitive" lease rate, a company spokeswoman said, without giving details on the lessor or price.
ATR is a joint venture of European aerospace group EADS and Italian company Finmeccanica.
(Additional reporting by Tim Hepher in Paris)