The aviation sector in our country has seen tough times in the recent past and there seems no end to its woes in the near future.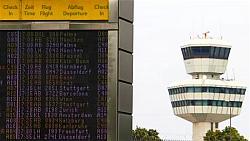 High fuel costs, pricing issues, other increasing input costs in addition to the declining passenger traffic has put the sector on to a tight spot.

The Center for Asia Pacific Aviation said in its Outlook 2012-13, that India's airlines is estimated to post a combined loss of $1.3-1.4 billion, attributable mainly to Kingfisher airlines and Air India.

The Union Government went ahead and bought in the much-awaited FDI policy for this sector last September, allowing up to 49 per cent equity infusion by foreign airlines into domestic airlines.

This brought in much needed relief to the cash strapped sector. Talks have been on between various foreign airlines trying up pick up stakes, but have not yet reached the signing stage.

Further, direct import of ATF has also been allowed to avoid incidence of high sales tax imposed by state governments.

However due to infrastructure needed to store ATF, not many airlines have gone ahead and made use of the benefits.

Last budget allowed the airlines to borrow money overseas up to a limit of $1 billion to sail through its working capital needs for one year; this should give some relief to the airlines.

The aviation sector, which includes not only the airlines but also the airport developers and operators have brought out their expectations from this budget.

Aviation sector is an enabler for movement of both passengers and cargo, just as roads are considered as infrastructure and is essential for economic development of the country, aviation should also be considered as infrastructure on the same lines.

This move would give the sector some tax breaks and access to much needed finance.

The airport developers also have sought easing of RBI limits on aviation funding, so that the required funding can be raised from a single source/bank instead of the current practice of raising funds from multiple banks.

This would go a long way in ensuring faster execution of airport development projects.

Security systems at airports are a mandatory requirement as it is a sensitive target.

When security equipment are imported by government agencies for anti-smuggling, bomb detection and disposal no customs duty is payable.

However, when airport operators import the same, customs duty is charged though the purpose of import is security.

Hence the customs duty exemption is sought for x-ray baggage inspecting systems and such airport security systems.

Other systems required for operations of airport like aerobridges, airfield crash fire tenders, ground and air flight inspection systems, navigational and communicational aids etc that are imported are sought to be imported at basic customs duty of 5 per cent.

FICCI also recommends setting up of a separate SPV for handling aviation finance at lower interest and longer maturities and also airport operators be allowed to raise funds through tax-free infrastructure.

There are a few amendments sought to the Income Tax Act, which gives certain benefits to the public sector companies vide Section 72A, which contains provisions relating to carry forward and set off of losses on amalgamation or merger.

This section is sought to be extended to private airlines as well. Operating leases are a part and parcel of the airline industry all over the world.

The provision on Income Tax vide Section 10(15A) was withdrawn for all operating leases entered after 01 Apr 2007. The reinstatement of the same will reduce tax burden of the sector.

Aviation sector also hopes to get tax incentives for development of Maintenance, Repair and Overhaul (MRO) facilities in India.

Currently, airlines send their aircrafts abroad for major checks and repairs, which again causes a drain on their resources.

If MROs could be developed here, it would not only result in savings to the airlines, but will be a huge employment generator.

The aviation sector generates employment opportunities for a lot of people, hence there are arguments for a tax exemption to this sector.

This is the last budget for the government before it goes for elections in the year 2014, however due to the prevailing fiscal conditions and not so great GDP numbers, the budget is likely to be an austere one, as indicated by the Finance Minister.

The aviation sector may not really see many goodies being doled out, but one can be hopeful of some measures that will bring relief to the sector.
Powered by

BankBazaar.com is an online marketplace where you can instantly get loan rate quotes, compare and apply online for your personal loan, home loan and credit card needs from India's leading banks and NBFCs.
Copyright 2008 www.BankBazaar.com. All rights reserved.