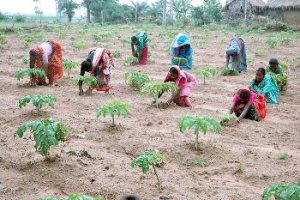 Prime Minister Manmohan Singh on Wednesday said the government proposes to create a biometric data base of all workers covered under its flagship MNREGA scheme and use it to authenticate work applications, work-site attendance and wage payments.
Making the announcement at a function held in New Delhi to mark five years of the launch of Mahatma Gandhi National Rural Employment Guarantee Act, Singh said, "We hope it will substantially reduce instances of discrimination in work allocation, delayed payments and bogus muster rolls."
The Prime Minister also expressed concern over problems in implementation of MNREGA in Naxal-affected areas.
He announced that the government will establish a technical unit, comprising a panchayat development officer and a junior engineer, in each gram panchayat.
"Priority is being given to Left-wing extremism affected districts, and districts where the annual MNREGA expenditure is above Rs 100 crore (Rs 1 billion)," Singh said.
He also took note of reports of harassment and intimidation of social auditors.
"Authorities should take strict action in such cases.
Comprehensive rules to strengthen the social audit process by the gram sabha are being formulated," Singh said.
The Prime Minister maintained that MNREGA had generated 880 crore person days of work since its inception.
"About 52 per cent of the work has been done by those belonging to the Scheduled Cases and Scheduled Tribes and 47 per cent by women," he said.
Singh also noted that wages under MNREGA were now being disbursed through more than 10 crore (100 million) bank and post office accounts.
The Prime Minister said the challenge before the government is to improve the implementation of the Act on the ground.
"We have to improve the
delivery mechanism of the programme so that the right to employment created under the Act becomes an effective right available to all eligible persons.
"Modern technology can be a potent weapon in preventing leakages and improving transparency," Singh said.
He pointed out that the role of Right to Information Act is important in this regard.
Singh said wages have increased from Rs 65 per person per day in 2006 to around Rs 100 per person per day today.
"Wage rates for MNREGA workers have recently been linked to increases in Consumer Price Index for agricultural labourers, resulting in an immediate 17 per cent to 30 per cent increase of wage rates.
"The average person days of employment per household under MNREGA in the last financial year was 54 days," Singh said.
The government also plans to formulate micro-plans at the village level with people's participation to determine which works should be undertaken and where.
"The people should be actively involved in the implementation, monitoring and social audit of the programme," Singh said, adding the role of Panchayati Raj could be enhanced for this.
The Prime Minister also expressed concern that millions of small and marginal farmers, especially in tribal areas, are being forced to work as MNREGA labourers because their lands are no longer productive enough to support their families.
"The real success of MNREGA will be achieved when it is able to address the circumstances that made the programme necessary in the first place," he said.