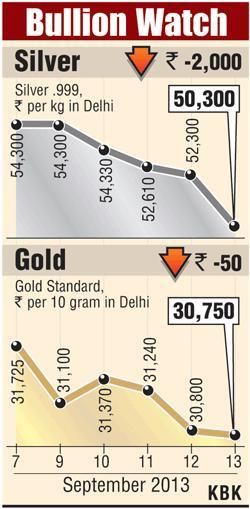 Extending losses for the third straight day, gold and silver prices fell further today on sustained selling by stockists following sluggish demand coupled with a lower global trend.

Gold fell further by Rs 50 to Rs 30,750 per ten gram after losing Rs 570 in the previous two sessions, while silver dropped Rs 2,000 to Rs 50,300 per kg, after losing Rs 1,030 in last two days.

Traders said the sentiment remained bearish as gold slumped to a five-week low in overseas markets on speculation that the US Federal Reserve will taper asset purchases.

Goldman Sachs Group predicted further declines.

Gold in Singapore, which normally sets price trend on the domestic front, fell by one per cent to 1,308.18 dollar an ounce, the lowest since August 9.


Besides, sluggish demand at current level and a weak trend at futures market further fuelled the downtrend in the precious metals, they said.
On the domestic front, gold of 99.9 and 99.5 per cent purity fell by Rs 50 each to Rs 30,750 and Rs 30,550 per ten gram, respectively.
Sovereign declined by Rs 100 to Rs 25,000 per piece of eight gram.
Silver ready dropped by Rs 2,000 to Rs 50,300 per kg and weekly-based delivery by Rs 1,400 to Rs 50,090 per kg.
Silver coins also plunged by Rs 1,000 to Rs 85,000 for buying and Rs 86,000 for selling of 100 pieces.