Defusing worries of a fresh round of global currency war, the Group of Seven top industrialised countries on Tuesday asserted markets will continue to determine exchange rate of currencies.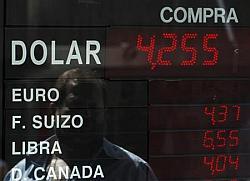 "We, the G7 Ministers and Governors, reaffirm our longstanding commitment to market-determined exchange rates and to consult closely in regard to actions in foreign exchange markets," said the joint statement released by G7's current president UK.

Fiscal and monetary policies would "not target exchange rates", the statement said.

"We reaffirm that our fiscal and monetary policies have been and will remain oriented towards meeting our respective domestic objectives using domestic instruments, and that we will not target exchange rates," it said.

Easy monetary policies of Japan and other nations have sparked fears of a currency war between major
economies.
There are speculations that policy makers seek to devalue their currencies to make exports more competitive in order to boost growth.
The statement said G7 powers - the US, the UK, France, Germany, Japan, Canada and Italy - had agreed to consult closely on exchange rates which "if allowed to move in a disorderly fashion could hurt global economic and financial stability."
Japanese finance minister Taro Aso said the statement recognised Tokyo's policy steps were not aimed at affecting foreign exchange markets.
The US has asked the G20 economic powers to avoid competitive currency devaluation that would threaten global economic growth.
The Group of 20 finance ministers and central bankers, including India, are scheduled to meet in Moscow at the end of the week where the issue is likely to feature heavily.