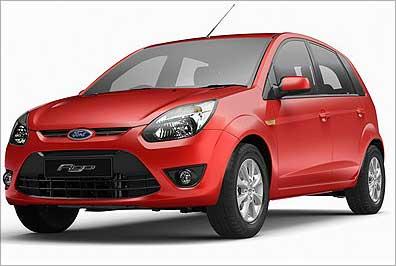 Car maker Ford India said it is looking at introducing a small car model in the country as part of its strategy to roll out eight new products by 2015.
The company is also looking at "opportunities" to increase the capacity of its compact sports utility vehicle EcoSport to overcome the long waiting period. "We are on the verge of introducing different products and these will be from all segments.
"India is an important market for Ford and we will participate in the growth story of all typs of passenger vehicles," Ford India Executive Director (Marketing, Sales and Service) Vinay Piparsania told PTI.
The company had earlier announced launch of eight products in India by middle of this decade with four of them have already hit the roads, he added. He said the company is on track to launch the remaining four models within the announced timeframe.
When asked specifically about the small car segment, Piparsania said: "We follow 'One Ford' policy for Ford globally and we have announced some concepts earlier.
"Mass segment is very important and we continue to look at the small car segment in India". He, however, declined to share any detail such as timeline for the new model to hit the road or at what stage of development it is.
Ford India at present sells only its Figo model in both petrol and diesel variants in the volume driven small car segment. Talking about the EcoSport model, Piparsania said the company is trying to ramp up the capacity to overcome long waiting list.
"We are considering various opportunities to increase the capacity. However, nothing has been finalised yet," he added. Currently, the booking for the SUV has been closed and the waiting period varies between four months and nine months depending upon the variant.
The company has a waiting for 30,000 bookings at present. It currently makes 4,000-6,000 units of the car every month. Meanwhile, Ford India announced roll out of a marketing scheme to promote sales of its models, except the EcoSport.
As per the scheme 'Midnight Surprise', anyone booking any model on December 5, will get a surprise gift.