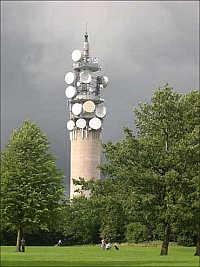 Riding high on the favourable opinion of the Supreme Court on the Presidential Reference last week on allocation of natural resources, the finance ministry is now confident of meeting the Budget target of Rs 40,000 crore (Rs 400 billion) fixed for telecom spectrum auctioning.
A senior ministry official said the apex court's observations had made things clear and there was all-round optimism of this helping maximise revenue from the 2G spectrum auction.
The Notice Inviting Applications from telecom companies was brought out by the government on Friday. The auction of spectrum associated with the 122 licences cancelled as a result of SC decision earlier this year is slated to begin in November and get completed by January 2013.
The official said with a Rs 14,000 crore (Rs 140 billion) reserve price for 5MHz of spectrum pan-India, the ministry was earlier expecting to garner around Rs 16,000 crore (Rs 160 billion) in the current financial
year for all the spectrum available. However, the situation had changed due to the SC opinion that policy was government's exclusive domain.
This would clear the way for administrative decisions on the issue. "We are now expecting to be able to garner Rs 35,000-40,000 crore (Rs 350 billion-Rs 400 billion) as targeted in the Budget in 2012-13," he added. He said this would help tackle the pressure on the fiscal deficit, targeted at 5.1 per cent of GDP this year.
With crude oil prices softening and the rupee strengthening against the dollar, the ballooning oil subsidy bill is now seen as being under check. The stepped-up effort on disinvestment is also likely to help the government achieve the Rs 30,000-crore (Rs 300 billion) target for the year and savings combined with these factors are projected by the ministry as indications that the fiscal deficit would not go awry.
"We will not be able to maintain the deficit at the targeted 5.1 per cent but will surely keep it within 5.3 per cent of GDP," said the official.