The finance ministry has approved the proposal of a committee headed by C Rangarajan, chairman of the Prime Minister's Economic Advisory Council, of a bailout on premium payments for highway developers.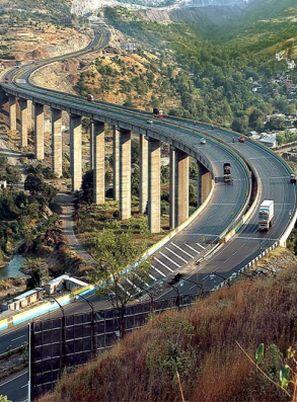 The approval will be effective Wednesday. Approved road projects awaiting premium rescheduling will be eligible for the scheme.

Premium is the sum companies agree to pay the government after they are awarded road projects. As of now, premium worth Rs 1,51,000 crore (Rs 1,510 billion) is due to the government.
Experts believe following the move, road projects worth Rs 20,000 crore (Rs 200 billion), awarded between 2011 and 2013, could be scrapped and might see re-bidding. Many road projects have not taken off, largely due to unfavourable economic conditions and lack of funding.
In January, the Rangarajan committee had given a report on the rescheduling of premium. The report proposed stressed projects be allowed to avail of a revenue-shortfall loan clause in the model concession agreement.
The shortfall between the toll revenue collected by the developer and the expenses incurred, which includes operational and maintenance costs, debt servicing and premium payments, will be extended as a loan to companies seeking rescheduling.

Officials said the National Highways Authority of India had already entered into deals with 10 developers and these projects could see re-bids soon.
"Some have been terminated and in some cases, road developers have backed out. There are 10 such projects and we are likely to see another five-10 being added to that list. These could include GMR projects worth Rs 5,500 crore (Rs 55 billion)," an official said.

In January, Planning Commission member B K Chaturvedi had told Business Standard the road projects should be scrapped and re-bid, as work hadn't started on these projects.
"Somewhere, we need to draw a line; in some of these projects, not a brick has been laid and these have remained paper exercises. My view is we scrap them and go for re-bids. I think the committee has proposed a reasonable package. All it is saying is build the roads and service the debt," he had said.

Experts believe scrapping some projects is likely to bring some stability in the sector. "There has been aggressive bidding in the past. Now, when the projects are re-bid, we will see moderate and cautious bidding. In the long run, the committee's recommendations will be good for road developers," said the chief executive of a leading infrastructure company.

Recently, the roads ministry had notified a revamped policy to allow companies to exit road projects.