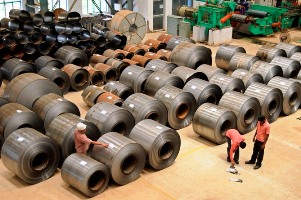 Showing a ray of hope, industrial output entered positive territory and recorded a 0.1 per cent growth in January after contracting for three months in a row.

The marginal improvement in the index of industrial production was mainly on account of higher power generation and mining sector output, while manufacturing declined.

However, industrial output during the 10-month period from April to January of this financial year was flat compared with an over 1 per cent growth in the same period of 2012-13.

"IIP data is in line with expectations. There is need for considerable pick up in February-March manufacturing activities," Prime Minister's Economic Advisory Council Chairman C Rangarajan said.

In January 2013, factory output measured in terms of IIP grew 2.5 per cent.

The contraction in IIP in December was revised to 0.16 per cent from the provisional estimate of a 0.6 per cent dip.

Factory output started to decline in October with the IIP contracting 1.6 per cent and continued till December, as per Central Statistics Office data released on Wednesday.

Power generation posted a growth of 6.5 per cent in January, compared with 6.4 per cent in the same month of 2013.

Expansion in power generation was 5.7 per cent in April-January from 4.7 per cent a year ago.

The mining sector, with a weight of about 14 per cent in IIP, grew 0.7 per cent in January as against a dip of 1.8 per cent in the same month in 2013. During April-January, mining output shrank 1.5 per cent as against a dip of 1.8 per cent a year earlier.

The manufacturing sector, which constitutes over 75 per cent of the index, declined 0.7 per cent in January as against growth of 2.7 per cent in the year-ago period.

During April-January, the sector's output contracted 0.4 per cent compared to a growth of 0.8 per cent in same period last fiscal.
Image: Employees work inside a steel factory in Agartala; Photograph: Jayanta Dey/Reuters