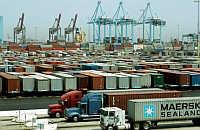 Slowing demand in Europe and America dragged exports down in August, for a fourth month in a row. These declined 9.7 per cent to $22.3 billion, compared to $24.7 billion in the same month a year before.
Reflecting the slowing in the domestic economy, imports also dipped by 5.1 per cent to $37.95 billion as compared to $40 billion in August 2011, shows data from the ministry of commerce and industry.
The fact that petroleum imports are up only marginally to $12.8 billion from $12.5 billion last August implies that imports in non-oil products have contracted significantly.
Non-oil imports during the month have declined 8.7 per cent to $25.1 billion. This indicates continued sluggishness in the Indian economy. The month's trade deficit was $15.6 billion, marginally higher than the $15.3 billion recorded in the year-ago period.
Analysts said the contraction in exports reflected worrying headwinds abroad, though the fall has decelerated from almost 15 per cent in July, when exports had their sharpest decline in 35 months.
The decline
in shipments signify a dampening outlook on growth. Already, growth has slipped to 5.5 per cent in the first quarter of this year against eight per cent a year before. Industrial production grew just 0.1 per cent in July.
Commerce Secretary S R Rao had recently said: "Compared to our export performance in July, there is a slight ray of hope. There is a slight improvement in August after the dramatic fall of around 15 per cent in July. The incentives announced are playing out and yielding fruits."
The government had extended an interest subsidy of two per cent on exports in its Foreign Trade Policy, besides other benefits to boost trade.
Over April to August, exports declined six per cent to $120 billion from $127.6 billion in the same period last year. In the first five months of the financial year, imports have contracted 6.2 per cent to $191.1 billion.
The trade deficit during the period was $71.1 billion, slightly less than the $76.2 billion in the first five months of 2011-12.
Gold and silver imports, which led to a ballooning of the trade deficit in 2011-12, fell 46 per cent to $2.6 billion in August.