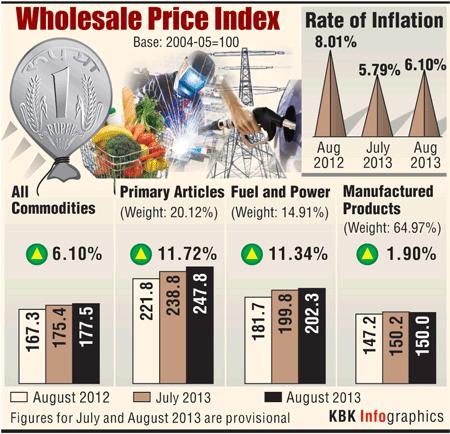 Costlier onion and other vegetables pushed up inflation for the third month in a row to 6.1 per cent in August, making it difficult for the RBI to cut rate in the monetary policy review due later this week.

The inflation was at 5.79 per cent in July and 8.01 per cent in August, 2012.

The highest increase was witnessed in case of onion which reported an increase of 245 per cent year on year.

The price of vegetables in general rose by 77.81 per cent making life difficult for the common man.

The high increase in prices was also seen in other essential food items like rice, cereals, egg, meat and fish.

On the positive side, potato prices declined by about 15 per cent followed by pulses which became cheaper by 14 per cent as compared to August last year.

The food items became costlier by 18.8 per cent on year on year
basis.
In case of manufactured items, sugar and edible oils became cheaper by 4.2 per cent and 3.86 per cent respectively.
Overall, manufactured items showed a moderate increase of 1.9 per cent during the month on annual basis.
New Reserve Bank Governor Raghuram Rajan, who is scheduled to come out with his first credit policy review on September 20, will have to take into account the rising inflation while announcing steps to boost sagging growth.
Commenting on the rising inflation, Prime Minister's Economic Advisory Council chairman C Rangarajan said that it was mainly on account of depreciating rupee but hoped it would come down in the coming months.
"Over the next few months food inflation will start coming down because of good monsoon and that would have an impact on rest of things...we expect the inflation by end of the current fiscal to be around 5.5 per cent", he said.
Economist with KASSA Siddharth Shankar said, "overall numbers may not let RBI cut rates."