To have 2 directors even if it dilutes stake to 15%

Abu Dhabi-based Etihad Airways would continue to have two directors on the board of Jet Airways, even if it decided to dilute its stake in the Indian carrier to up to 15 per cent. This has been provided for in the revised shareholders' agreement (SHA) filed by the airlines with the Foreign Investment Promotion Board (FIPB) last month — a copy of which has been reviewed by Business Standard.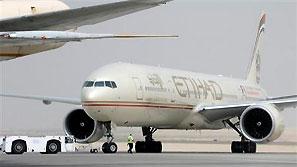 Overall, the Jet Airways board will have 12 members — four directors representing it, two from Etihad and six independent ones. Etihad will nominate the board's vice-chairman, who will preside over board meetings, as well as general meetings, in the chairman's absence. Additionally, as long as it holds up to 20 per cent of Jet's share capital, Etihad will have the right to nominate one of its directors as a member of Jet's audit committee.

Besides the six independent directors, two of the four promoter-nominated directors will have to be Indian nationals. One of the promoter board members will be nominated as the board's chairman, who will preside over board and general meetings and have the casting vote on matters, diluting Etihad Airways' powers.

Industry experts, however, hold that the West Asian carrier will continue to enjoy substantial control over the Indian airline, despite structural changes in the SHA.

Centre for Asia Pacific Aviation CEO (Indian Subcontinent & West Asia) Kapil Kaul says: "Etihad has inked a $900-million deal with Jet, which includes $379-million investment for a 24 per cent stake. The airline is not to stay as a passive investor. It will strategically drive Jet's plans to suit its own global game plan. It will be naïve to expect Etihad will play an insignificant role after agreeing to the deal."

Etihad had on April 24 this year announced its decision to buy a 24 per cent stake in Jet at Rs 754.74 a share — a 31 per cent premium. The equity sale deal valued Jet at Rs 8,500 crore.

Though the revised corporate governance code has watered down the powers of the nomination committee (NC) to appoint and remove the independent directors and the CEO of Jet Airways, the NC still has the right to make recommendations for these positions. The Jet Airways board will, however, have to approve the recommendations and make the appointments.

According to the revised SHA, board resolutions will be passed by a simple majority, and not by a three-fourths majority proposed earlier. The airline will continue to have its principle place of business in Mumbai, India. The commercial cooperation agreement (CCA) between the two airlines had earlier asked for network- and revenue-management functions to be shifted to Abu Dhabi after the stake sale. This had been objected to by the civil aviation ministry.

"We see Etihad having a major role in Jet's operations and management going forward, even though the SHA has been revised. Earlier, in 2008-09, W L Ross had a very significant role in SpiceJet's strategy and future direction, even with shareholding of less than 15 per cent and one board seat," Kaul added.

FIPB had on July 29 given conditional approval to Jet Airways' Rs 2,058-crore proposal to sell a 24 per cent stake to Etihad. The approval had come attached with certain riders. These included the Naresh-Goyal promoted airline having to seek a prior approval from the government for making any changes the SHA. Also, any arbitration was to be under the Indian law, and not English as proposed in the revised SHA.


Control concerns

Nomination: Etihad will have the right to nominate two directors on Jet's board, even if it dilutes stake to up to 15%
Vice-chairman: Etihad will nominate the vice-chairman, who will preside over board meetings in the chairman's absence
Audit committee: As long as Etihad owns up to 20% of Jet's share capital, it can nominate one of its directors as member of the audit committee
Control: According to experts, Etihad will have substantial control over Jet, despite structural changes in the revised shareholders' agreement