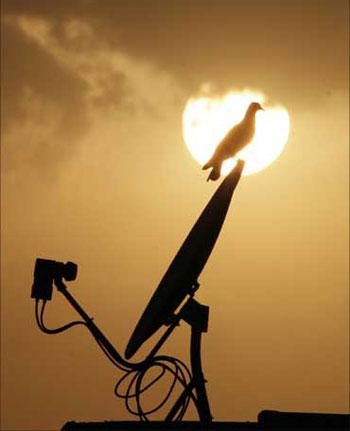 The Department of Telecom has worked out a one-time spectrum charge of over Rs 2,060 crore to be levied from operators for the period they remained in business after their licences were cancelled in February last year, sources said.
"Period to calculate the one-time charge has been taken from February 2, 2012 to the date of closure of operation," and on "pro rata basis at reserve price for 1800 Mhz (2G GSM) and 800 Mhz (CDMA) approved for the auction held in November 2012 and March 2013," an official source said.
As per the DoT calculations, Etisalat DB is liable to pay Rs 94.19 crore, Idea Cellular Rs 153.97 crore, Loop Telecom Rs 125.37 crore, S Tel Rs 10.29 crore, Spice Communications (now part of Idea) Rs 109.19 crore, Unitech Wireless (Uninor) Rs 498.20 crore and Videocon Telecom Rs 464.17 crore, sources said. CDMA players Sistema Shyam Teleservices is liable to pay Rs 601.91 crore and Tata Teleservices Rs 2.99 crore. "Executive order from the concerned wing of DoT is awaited," source said.
In February last year, the Supreme Court had cancelled 122 2G telecom licences. The apex court had allowed these companies to operate till DoT conducts spectrum auction and giving opportunity to them to begin operations afresh. The initial time was four months which was extended due to delay in regulatory process.
The cancelled lincences included 22 of Uninor, 21 of Loop Telecom, 21 of Sistema-Shyam, 15 of Etisalat DB, 6 of S Tel, 21 of Videocon, 3 of Tatas and 9 of Idea Cellular.
Uninor, Sistema Shyam, Videocon and Idea Cellular were among those companies that participated in auction to continue their operations in India. Loop Telecom, Etisalat DB, S Tel closed their operations in the country.
It may be noted that foreign investor in Loop Telecom, Khaitan Holdings Mauritius Ltd, had filed international arbitration against Indian government seeking damages of about
$1.5 billion in the matter, while Etisalat had earlier said that it is in discussion with government to resolve dispute and protect its investment.