With the general elections round the corner, the question on investors' minds is how to protect against market losses if there's an outcome with a negative impact.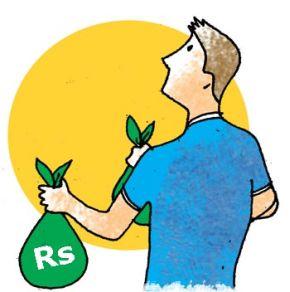 For now, investors should not go for a full hedging of their portfolios as costs have risen considerably.
They should consider a partial hedge that leaves room for an upside, say experts.

An investor has to determine how much of a loss he is willing to bear. Therefore, to hedge your portfolio optimally, ask yourself:
Do you expect your portfolio to slide after elections? If yes: How much?

One can hedge in three ways: Sell index futures, buy put options or sell call options.
But selling index futures and buying put options have become expensive recently.

Besides, the market still has bullish undertones. The rupee is strengthening. India is in a better position than Russia, China and Brazil. Stock valuations here are low.
The economy is showing shoots. India is becoming a favourite emerging market.
Hence, the stock market may not be so mauled if the election verdict is not in favour.

Says Siddarth Bhamre, head, equity derivatives and technicals, Angel Broking: "Our take is this rally has more to it than just the elections. We are not expecting a significant downside."

The cost of hedging, that is, buying a put option, has risen considerably in a few weeks. A 6,500 put option for the May series is Rs 165.
Expectations of sharper market movements, known as implied volatility, have risen to 28 per cent, close to historical highs of 30-35 per cent.

Besides, buying a put at these levels means investors will not be protected for the first four points' fall in the Nifty, as the put becomes profitable only if the Nifty touches 6,335 (currently at 6,736). Hence, investors need not go for these hedges now.

Instead, hedge your portfolio by selling deep out of the money call options, says Bhamre, after the market heads a little higher in a week or so.
This may sound risky, but against an existing portfolio, the risk gets reduced. "Even if you are hedging, you need to take market direction into account, and we don't expect the market to fall considerably.
If the market falls, it would be a good time to buy stocks. Hence, partially hedge by selling out of the money call options."

Investors will earn a premium at the current market by selling call options, but it will also leave some room for an upside in the portfolio in this market.
But this will only protect against a partial fall, say of 100 points, if the premium is Rs 100. "This is a partial hedge and is advisable in this market now. Besides, if there is a crash after elections, we think it will be a good opportunity to buy."