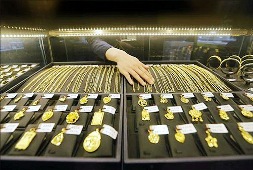 Clearing the air on gold import norms, a government official said on Friday more than 20 per cent of the imported metal can be exported back, a clarification that is likely to help release inbound shipments help up at customs.

The Reserve Bank of India in July introduced 80:20 scheme under which 20 per cent of the total gold imports was to be exported back.

Further imports were not allowed if this 20 per cent norm is not met by importers.

The move was to curb rising gold import which led to high current account deficit.

The RBI norm left many confused, leading to imports being held up at customs.

The matter was discussed and resolved in the meeting here today which was chaired by Commerce Secretary S R Rao.

Officials of RBI, banks, MMTC and industry representatives were present in the meeting.

"The problem was that of interpretation of 80:20.

"This means that at least 20 per cent you have to give for exports.

"So, somewhere it was misinterpreted that you cannot export more than 20 per cent," the official said.

One can export more than 20 per cent of total imports, he added.

Jewellers last month had said that gold imports were held up at customs due to confusion over the RBI's 80:20
import norm.
As the Customs officials were unsure of how to implement RBI notification, they stopped all stocks from entering the country, jewellers had claimed.
With this clarification, gold imports are likely to resume, the government official said.
He said that although gold imports were going on but there was some confusion on the implementation of the RBI's scheme.
Gold imports are actually coming and it is only that there were some issues of its release. the official added.
He said that focal officers would be fixed at all places including the customs, the RBI, commerce ministry and MMTC to help importers.
"Nominated agencies who import like banks, MMTC they were in New Delhi in the meeting.
"They conveyed what there problems are and the customs people, RBI have understood what the lacuna's are.
"So they will be writing to the field formations to ensure that there is no procedural problems," he said.
India's gold jewellery exports nosedived 70 per cent year -on-year to $441.41 million in July on account of shortage of precious metal and limited inventory in domestic market.
In 2012-13, India imported 845-850 tonne gold.
India's gold imports in August dipped to $0.65 billion from $2.9 billion in July, and a record $8.4 billion in May.