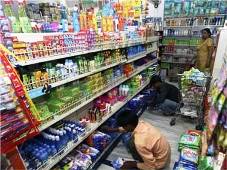 After struggling for much of FY13, fast moving consumer goods companies seem to have retrieved some of the lost ground in the last quarter.

The results declared by key companies for the three months ended March 31 show most firms have managed to arrest the moderation in volume growth witnessed in previous quarters.

This trend was most obvious in the case of India's largest FMCG company, Hindustan Unilever, which reported a six per cent volume growth -- a tad higher than the five per cent growth in the December 2012 quarter.

Gurgaon-headquartered GlaxoSmithKline Consumer Healthcare, meanwhile, reported an eight per cent volume growth for the March 2013 ended quarter higher than the six per cent volume growth it saw in the previous quarters.

Similarly, Ghaziabad-based Dabur India posted a 12 per cent volume growth (in its domestic business, which gives it nearly 70 per cent of its revenues), higher than the 9-9.5 per cent volume growth seen in previous quarters.

According to analysts, the uptick is thanks to the skillful moves by companies in response to external factors.

For instance, when palm oil prices fell during the quarter, HUL quickly offered 12- 20 per cent discounts on soaps, which use the input for its manufacture.

The result: a 13 per cent sales growth seen in soaps as well as detergents during the quarter under review.

Beverages, in contrast, benefitted from a consolidation drive by the company across its tea and coffee brands, resulting in an 18 per cent sales growth during the quarter, while personal products grew 12 per cent.

"The growth, for us, was broadbased during the quarter, so that was significant,"
said Harish Manwani, chairman, HUL.
Dabur and GCPL, too, saw broadbased growth across key categories. Dabur, for instance, logged between 16 and 25 per cent sales growth in categories such as home care, health supplements and over-the-counter products.
GCPL, according to company chairman Adi Godrej, grew 17 per cent in soaps, 27 per cent in hair colour, and 26 per cent in household insecticides during the quarter.
"In all three segments, we were ahead of market growth," said Godrej.
However, concerns still remain in discretionary categories such as hair oils and edible oils, where consumers have been opting to go slow in the last few quarters.
Mumbai-based Marico, for instance, saw a two per cent volume growth in Parachute and five per cent in Saffola during the fourth quarter, on account of a slowdown in discretionary spends. This is despite the company offering price-offs during the quarter on both brands.
The other concern area remains margins, which were impacted during the quarter on account of high advertising and sales promotion expenditure.
On an average, most companies had ASP spends of 13-16 per cent of sales during the quarter -- higher than the 12-13 per cent of sales that players have maintained in the past.
Ramakrishnan Subramaniam, director (finance), GSK Consumer, said in a conference call today that maintaining high ASP spends was imperative at a time when competition has been peaking.
However, according to analysts, companies have also used ASP to keep their brands fresh in the minds of consumers when consumer sentiment has been weak.