With Coal India deciding to pay around Rs 16,485 crore (Rs 164.85 billion) as interim dividend, the government will be able to make up for the shortfall in the disinvestment target of Rs 40,000 crore (Rs 400. billion) for the current fiscal.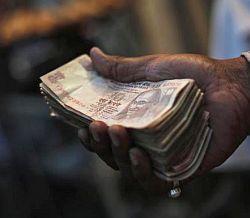 Keen to bridge the fiscal deficit, the government had given the option to Coal India to either go in for disinvestment or pay special dividend.

Coal India opted to pay higher dividend of Rs 29 per share, amounting to Rs 18,317 crore (Rs 183.17 billion), for 2013-14. Out of the total amount, government as 90 per cent owner will get Rs 16,485 crore (Rs 164.85 billion).

This is double the amount government received from CIL last fiscal.

The government had originally planned to divest 10 per cent stake in CIL which would fetched over Rs 16,000 crore (Rs 160 billion). It is now getting nearly a similar amount as special dividend.

As far as the
budget is concerned, the dividend will be shown under the head of 'Dividends and Profits' and not under 'Disinvestment Receipts'.
In the 2013-14 budget, the government has estimated to garner Rs 29,870 crore (Rs 298.70 billion) as dividend from PSUs, which would now be higher.
As regards the disinvestment in PSUs, government has so far garnered about Rs 3,000 crore (Rs 30 billion). An additional Rs 2,000 crore (Rs 20 billion) is expected to flow in from NHPC buyback.
Besides, it has also drawn a roadmap to raise Rs 13,000 crore (Rs 130 billion) from stake sale in Indian Oil Corporation (IOC), BHEL, Engineers India, HAL and issuance of PSU Exchange Traded Fund in the remaining two-and-a-half months of this fiscal.
This will also help the government in containing fiscal deficit which the government planned to restrict at 4.8 per cent of GDP in the current financial year.
Finance Minister P Chidambaram has repeatedly said he had drawn a redline with regard to fiscal deficit, which will not be allowed to be breached.