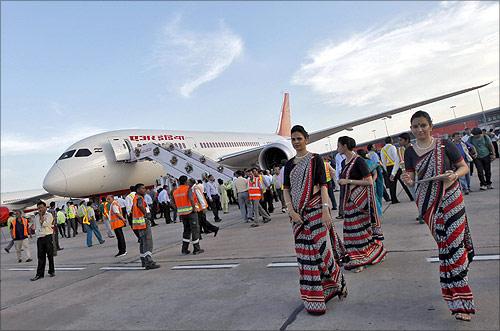 The Civil Aviation Ministry has issued a series of instructions to Air India, including redeployment of its "surplus" staff, to tighten its belts to face heightened competition, particularly from the proposed Tata-SIA backed Vistara airline.
In order to turn it into a 'lean and mean' airline to face growing competition from domestic and global carriers, the Ministry wants the national carrier to reduce flight delays, official sources said, adding that the airline should submit monthly reports of all delayed flights with reasons to the office of Civil Aviation Minister Ashok Gajapathi Raju.
The national carrier should also submit monthly reports on issues affecting its profitability, like fuel costs, loss-making routes and progress in the process of returning aged leased aircraft, they said.
Asking the airline to firmly deal with indiscipline, the Ministry has also directed Air India to ensure that First and Business Class seats, which are major revenue earners for any airline, are sold out.
These seats should be filled even at discounted fares a few hours prior to departure, if need be, the sources said, adding that many of these seats currently are given to VIPs who demand free upgrades from lower classes.
On redeployment of staff, the sources said the employees assessed as excess could be shifted to aviation-related state -run organisations like the Airports Authority of India and the Bureau of Civil Aviation Security.
The minister also wants the airline to lower the average age of its cabin crew "on par with the best competing airlines for ensuring quicker service and lesser delays".
The average age should be around 35 years, the sources said, adding those older should be shifted to ground operations.
As on June-end, Air India has a total staff strength of around 12,500 employees and the aircraft-to-employee ratio is 1:130 which, according to the ministry, is "comparable to some of the other airlines operating in the country".
The staff strength excludes those personnel who have already been shifted to the two subsidiaries which have been hived off -- the ground handling arm Air India Air Transport Services Limited and engineering wing Air India Engineering Services Limited.
Industry sources said some of these moves, particularly those involving re-deployment of staff, could stir the hornet's nest among employees, many of whom were already in courts over a variety of issues including one that aged cabin crew should not be grounded.