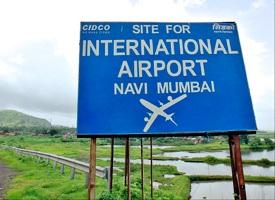 Although the Bombay High Court has allowed it to cut mangroves spread over 108 hectares, the state-run City and Industrial Development Corporation has yet to cross a major hurdle of acquisition of 291 hectares of private land and the agreement with project-affected persons over compensation.

This is crucial to start the work on the Navi Mumbai international airport.

The CIDCO and the Maharashtra government have stepped up efforts to arrive at a consensus over compensation for PAPs, before a meeting called by the prime minister on November 13 to expedite the work.

PAPs, who have dropped their earlier demand of Rs 20 crore (Rs 200 million) per acre, are demanding allocation of 35 per cent developed land against the offer of 22.5 per cent made by the state government and CIDCO.

The state government has already clarified that land-for-land compensation formula would be implemented instead of cash-for-land formula.

Early October, CIDCO, which is the nodal agency for the airport project, has launched social and commercial survey of Chinchpada village which is one of the 10 affected villages.

CIDCO's Chairman Pramod Hindurao and Vice-Chairman and Managing Director Sanjay Bhatia welcomed the high court's order. Hindurao told Business Standard: ''An early settlement with PAPs is on the cards. I am optimistic that the ongoing talks between the CIDCO and PAPs will arrive at a unanimous view with regard to the allocation of developed land.''

Bhatia informed that the negotiations with the PAPs were underway.

RC Gharat, chief negotiator for the PAPs, said the talks are still inconclusive. He added the PAPs await further rounds of talks with CIDCO.

''So far there has not been any agreement about PAPs accepting the 22.5 per cent developed land as offered by the state government and CIDCO,'' he noted.

Gharat explained that as per the government's 22.5 per cent developed land formula, the PAPs will actually get 15.75 per cent which is not acceptable.

He demanded that the developed land should given on net basis and not on gross basis.

The project cost, which was estimated at Rs 4,766 crore (Rs 47.66 billion) in 1998 to handle 40 million passengers annually, has risen substantially to about Rs 14,573 crore (Rs 145.73 billion) as on date to handle 60 million passengers annually.

The rise has been as high as 305.76 per cent.

Delay in acquisition has forced the CIDCO to defer the invitation of request for qualification.

Meanwhile, CIDCO has already announced to develop 'mangroves park' near the proposed airport.

The high court granted its approval as CIDCO has already received clearances from the Ministry of Environment and Forests, and Wildlife Authority.

Further, the CIDCO has been exempted from Coastal Regulation Zone regulations for development of the airport.