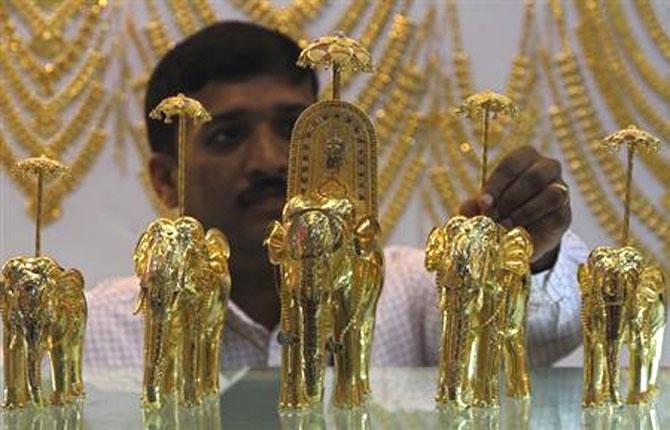 >
Photograph: Reuters
For many, buying gold jewellery or coins a few months before the festival season is almost a norm.
This helps when gold prices rise during the festival days, as the yellow metal or jewellery is priced lower due to the lock-in.
This year, however, it might be different. On Monday, gold prices slipped below Rs 28,000/10g; global prices stand at $1,280 an ounce. And, it is expected the prices might fall further.
"Gold prices are in a consolidation and correction mode. There will be opportunities to buy on declines," says Chirag Mehta, fund manager, Quantum Asset Management.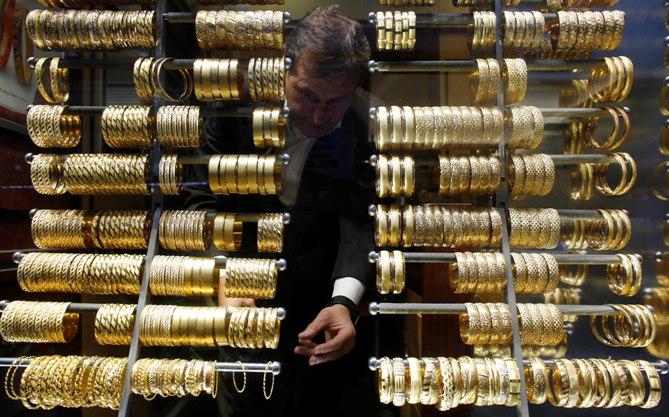 Photograph: Murad Sezer/Reuters
While there are no exact resistance levels for gold, analysts say a good benchmark is $1,180-1,200 an ounce, the current production cost.
A factor that could contribute to the fall in prices is the expected hardening of interest rates in the US.
"While the tapering has been priced into gold prices, there are expectations there will some hardening of rates in the US after five-six months, which will put added pressure on gold," says Mehta.
This is because when financial assets become attractive, people start exiting gold and investing in those.
Also, crude oil prices are under pressure. Since July, Brent crude oil prices have fallen from $111 a barrel to $100.89 a barrel.
When crude oil prices fall, gold prices also see a decline, as it indicates there will be a fall in inflation. Therefore, investors stop/reduce hedging against inflation by investing in gold.
Mukesh Dedhia, director, Ghalla and Bhansali, says, "The environment around gold is weak, which indicates a correction.
If one wants to buy gold after a month or two, it will make sense to wait for some time." However, he cautions one shouldn't wait for the last day, as the demand will ensure there is some price increase.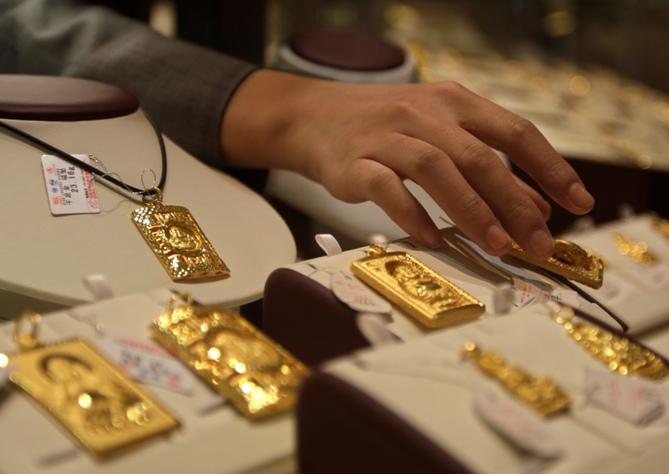 Photograph: Petar Kujundzic /Reuters
The joker in the pack, which could come to the rescue of a buyer, is the change in the stance of the Union government during or close to the festival season.
While the government has been saying that given the country's current account deficit, any immediate cut in the customs duty is unlikely, if it were to cut the customs duty by even two per cent close to the festival season, prices will fall.
As of now, the custom duty on gold is 10 per cent.
As Dedhia says, if you buy jewellery to hold it for the next 10-15 years, it makes little sense to time the market, as minor price changes in the yellow metal, much like equities, don't mean much over a long period. Also, jewellery involves making charges of 15-20 per cent and that makes it more like a need-based purchase.
Otherwise, it's wise to wait.