Exports in all probability will miss the target and settle at $300 billion in 2012-13 because of slowdown in demand in traditional markets, Commerce and Industry Minister Anand Sharma said on Wednesday.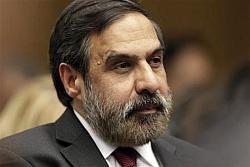 The government has set an export target of $360 billion for the current financial year.

"Exports have not grown as we were hoping because of the contraction in global trade, the continuing turbulence in the euro zone area and the fall in demand in some of the traditional destinations.

"We still hope, the numbers of February and March will remain strongly positive. We will be happy if we mange to reach closer to $300 billion this fiscal," Sharma said.

Notably, after eight months of contraction, outward shipments rose a tad in January at 0.82 per cent to $25.58 billion, but trade deficit continued to widen to around $20 billion, the second highest figure ever in a month, as imports rose 6.12 per cent to $45.5 billion in the month.

However, during the April-January period, overseas shipments shrank by 4.86 per cent to $239.6
billion.
Sharma was addressing students of St Xavier's College here at a CII-organised event.
On FDI in retail, Sharma said the "government will fast track new proposals as we get," adding that he had cleared three foreign direct investment proposals on single brand retail last week.
He further said Sainsbury, Carrefour and Tesco have also applied for permission to set up sourcing centres in the country.
On the proposed Jet Airways-Etihad deal, Sharma said, the government has already assured the Gulf carrier of the safety of its investments. "We have assured Etihad that India is a safe and profitable investment destination."
The comments have come in the backdrop of reports that the UAE carrier had sought firm assurances from the government on its investment.