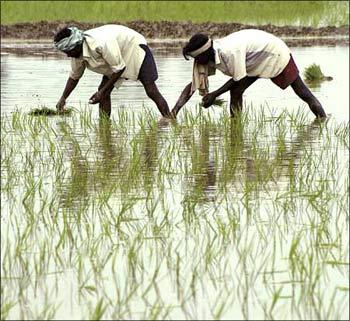 With agriculture growth rate falling short of the 4 per cent target in last five years, the sector needs urgent reforms to boost crop yields and private investment in infrastructure so as to motivate farmers and feed the growing population, the Economic Survey said on Wednesday.

The farm sector achieved 3.6 per cent growth during the 11th Five year Plan (2007-12), falling short of the 4 per cent growth target, although it was much higher than growth of 2.5 and 2.4 per cent during 9th and 10th Plans, it added.

The agriculture sector is broadly a story of success in the past few years, "yet, India is at a juncture where further reforms are urgently required to achieve greater efficiency and productivity in agriculture for sustaining growth", the Survey said.

There is need for stable policies where markets play an appropriate role, private investment in infrastructure is stepped up, the public distribution system is revamped, food price and food stock management improves, and a predictable
trade policy is adopted for agriculture, it added.
These initiatives need to be coupled with skills development and better research and development along with improved delivery of credit and seeds.
Stating that the country faces the stiff challenge of feeding its growing population, the Survey said that there are constraints and challenges that need to be addressed so that the farming community is motivated to produce more and the target of 4 per cent agri-growth is met in the 12th Plan.
"Improvement in yields holds the key for India to remain self-sufficient in foodgrains and also make a place for itself in many agricultural crops and products in the international market," the Survey noted.