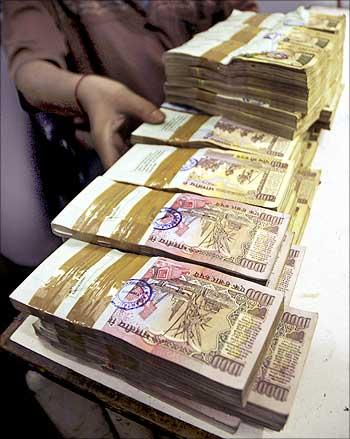 As the deadline for direct cash transfer for subsidies in 43 districts nears, the government has started the mapping of gram panchayats to provide banking services in remote parts of the country.
It has asked banks to have at least one bank branch or business correspondent agent ( BCA) for every village or group of villages with 1,000 to 1,500 households.
Of about 600,000 villages in the country, only about 74,000 have a bank branch or BCA at present. As the government would extend direct cash transfers to other parts of the country in a phased manner, it would be necessary to provide banking services in these un-banked areas.
"It shall be the endeavour to ensure that there is at least one bank branch / BCA in every gram panchayat(s). Since the population of gram panchayat varies across the states, banks need to ensure that about 1,000 to 1,500 households are available in the sub-service area of BCA," the finance ministry said in a circular to public sector banks and regional rural banks.
In places where there are no BCAs or the performance of the existing BCA is less than satisfactory, the common service centre (CSC), set up under the department of electronics and information technology, would be engaged as BCA.
"Till such time the banks install the software and complete other technical requirements for cash transactions, the CSC should be used for activities other than cash withdrawal transactions. They should, in particular, be used for opening new accounts of beneficiaries under the scheme for direct cash transfer," said the finance ministry circular.
CSCs have been asked to be ready in terms of equipment, connectivity, biometric device, card reader and printer by the end of this month. New CSCs will be set up in areas where neither a BCA nor a functional CSC is available.
After covering the 43 districts by month-end, mapping of gram panchayats and BCA/CSC in their service area, and assignment of sub-service area in the remaining districts would be completed by January 15, 2013.
In the Budget speech for 2010-11, then finance minister Pranab Mukherjee advised all banks to provide appropriate banking facilities to places with population in excess of 2,000 by March 2012, using various models and technologies, including branchless banking through BCAs.

This financial inclusion campaign was named 'Swabhimaan' under which banking facilities mainly through business correspondents were provided in 74,194 villages and about 31.60 million crore financial accounts were opened.

This year, the government extended the campaign to habitations with population of more than 1,000 in north-eastern and hilly states and to other habitations, which have crossed population of 2,000 according to census 2011.
Ta-Ta, Ratan: Tribute to an iconic Indian