Sanand plant exported 78,930 cars. The one at Chennai exported 79,539 units of EcoSport model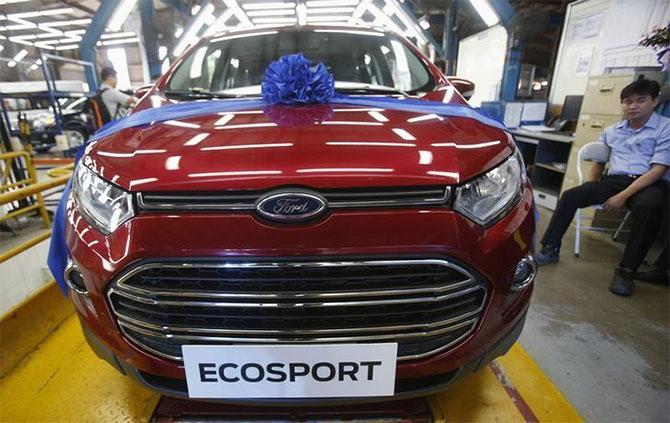 After a slow start, export of cars from Ford India's factory at Sanand, close to this city, expanded during 2016-17. The facility produced 78,930 cars for export, at par with the shipment abroad from its Chennai factory.
Sanand makes Ford's hatchback, the Figo, and the Figo Aspire sedan. Sale of the Figo had fallen by almost 60 per cent in the latter half of 2015-16 (October to March). Those of the Aspire fell 74 per cent between August 2015, when it was launched, and March 2016.
Sources indicate the company had to then revise its internal production targets. It also decided to focus more on the export market.
This seems to have worked. Data from the Society of Indian Automobile Manufacturers shows export of the Figo swelled 214 per cent or more than threefold, to 49,901 units in 2016-17 from 15,877 in 2015-16. Similarly, export of the Aspire went up from 11,152 units in FY16 to 29,029 in FY17, up 160 per cent.
Cumulatively, the Sanand plant exported 78,930 cars. The one at Chennai, much older, also exported 79,539 units of its popular EcoSport model. The three brands go to Latin America, West Asia and Africa.
A questionnaire sent to Ford India on export markets and future plans was not answered.
An analyst said several automobile multinational corporations (MNCs) were now using their Indian manufacturing base as an export hub.
"Cost of production in India is quite competitive, with low manpower cost. Quality assurance has improved significantly. Exporting to Latin American and other emerging markets from India is a competitive option," he said.
More, many of the MNCs have not been able to make a mark in the domestic car market. So, utilising the manufacturing base for export makes the Indian operation viable.
Ford India is utilising around 60 per cent of its current installed capacity. Hence, it has room for growth on both the domestic and export fronts. Figo sales at home continued to slip, from 17,755 units in 2015-16 to 14,198 in 2016-17.
The Aspire, however, had grown marginally, from 19,716 units in FY16 to 21,943 in FY17. Hence, the emphasis on export is likely to continue.
Photograph: Kham/Reuters