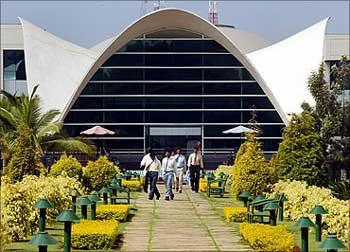 IT services major Infosys, which has been battling high attrition rates, expects the situation to continue for a few more quarters before it can be brought down to "comfortable" levels, its Chief Operating Officer U B Pravin Rao said.
Attrition rate at India's second largest IT services firm had hit a record high of 19.5 per cent for the April-June quarter this fiscal up from 18.7 per cent in the previous quarter and 16.9 per cent in the same period last year.
"We expect, over the next few quarters, that some of the actions we have taken to have an impact on our attrition. It will start trending down. We expect it to take a few more quarters, before we get back to 13-15 per cent attrition, which is historically where we are comfortable," Rao told analysts.
The Bangalore-based firm had a total headcount of 1,61,284 as on June 30, 2014. Rao said bringing down attrition rate is a focus area for the firm.
"Attrition is on the higher side and is definitely an area of concern for us. Last quarter we had a rate of about 19 per cent. We have done several things to arrest attrition. We have looked at some of the hygiene elements like more predictability to people in terms of compensation and promotion," he added.
Rao further said: "We continue to engage with people. In the recent past there was a lot of distraction around CEO change, high profile exits, but with the new CEO in place, we believe that distraction will go away and there will be a lot more positivity."
On revenue guidance, he said the company is sticking to its earlier expectation of 7-9 per cent growth.
"At the beginning of this quarter we had talked about a 7-9 per cent growth. At this stage, we are not seeing anything fundamentally different, so we remain committed to the 7-9 per cent growth. We have not seen any dramatic changes in the industry segments," he added.
Rao said there have been some marginal movements like better traction in Financial Services, decent traction in Manufacturing and the company is seeing good traction in Communication and Energy.
"On the other hand Consumer Packaged Goods (CPG) and Logistics continue to be a challenge. Life Sciences continues to be challenging. But, the net overall we are not seeing too much change in what we had talked about at the beginning of the quarter," he added.